Mailbox Monday is a meme created by Marcia of To Be Continued, check out the blog
Sent for review:
Allegedy by Tiffany D. Jackson
Mary B. Addison killed a baby.
Allegedly. She didn't say
much in that first interview with detectives, and the media filled in the only blanks that mattered: A white baby had died while under the care of a churchgoing black woman and her nine-year-old daughter. The public convicted Mary and the jury made it official. But did she do it? She wouldn't say.
Mary survived six years in baby jail before being dumped in a group home. The house isn't really "home"—no place where you fear for your life can be considered a home. Home is Ted, who she meets on assignment at a nursing home.
There wasn't a point to setting the record straight before, but now she's got Ted—and their unborn child—to think about. When the state threatens to take her baby, Mary must find the voice to fight her past. And her fate lies in the hands of the one person she distrusts the most: her Momma. No one knows the real Momma. But who really knows the real Mary?
Goodbye Days by Jeff Zentner
Can a text message destroy your life?


Carver Briggs never thought a simple text would cause a fatal crash, killing his three best friends, Mars, Eli, and Blake. Now Carver can't stop blaming himself for the accident and even worse, there could be a criminal investigation into the deaths.
Then Blake's grandmother asks Carver to remember her grandson with a 'goodbye day' together. Carver has his misgivings, but he starts to help the families of his lost friends grieve with their own memorial days, along with Eli's bereaved girlfriend Jesmyn. But not everyone is willing to forgive. Carver's own despair and guilt threatens to pull him under into panic and anxiety as he faces punishment for his terrible mistake. Can the goodbye days really help?
One Of Us Is Lying by Karen M. McManus
One of Us Is Lying is the story of what happens when five strangers walk into detention and only four walk out alive. Everyone is a suspect, and everyone has something to hide.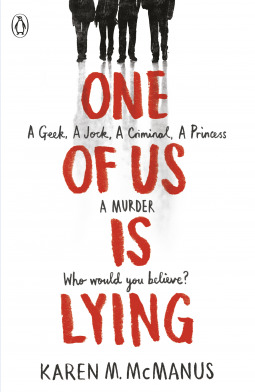 Pay close attention and you might solve this.
On Monday afternoon, five students at Bayview High walk into detention.
Bronwyn, the brain, is Yale-bound and never breaks a rule.
Addy, the beauty, is the picture-perfect homecoming princess.
Nate, the criminal, is already on probation for dealing.
Cooper, the athlete, is the all-star baseball pitcher.
And Simon, the outcast, is the creator of Bayview High's notorious gossip app.
Only, Simon never makes it out of that classroom. Before the end of detention Simon's dead. And according to investigators, his death wasn't an accident. On Monday, he died. But on Tuesday, he'd planned to post juicy reveals about all four of his high-profile classmates, which makes all four of them suspects in his murder. Or are they the perfect patsies for a killer who's still on the loose?
Everyone has secrets, right? What really matters is how far you would go to protect them.
180 Seconds by Jessica Park
Some people live their entire lives without changing their perspective. For Allison Dennis, all it takes is 180 seconds…


After a life spent bouncing from one foster home to the next, Allison is determined to keep others at arm's length. Adopted at sixteen, she knows better than to believe in the permanence of anything. But as she begins her third year in college, she finds it increasingly difficult to disappear into the white noise pouring from her earbuds.
One unsuspecting afternoon, Allison is roped into a social experiment just off campus. Suddenly, she finds herself in front of a crowd, forced to interact with a complete stranger for 180 seconds. Neither she, nor Esben Baylor, the dreamy social media star seated opposite her, is prepared for the outcome.
When time is called, the intensity of the experience overwhelms Allison and Esben in a way that unnerves and electrifies them both. With a push from her oldest friend, Allison embarks on a journey to find out if what she and Esben shared is the real thing—and if she can finally trust in herself, in others, and in love.
eBooks:
Vicious by V. E Schwab
Victor and Eli started out as college roommates—brilliant, arrogant, lonely boys who recognized the sam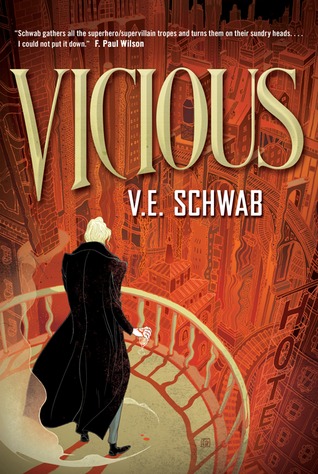 e sharpness and ambition in each other. In their senior year, a shared research interest in adrenaline, near-death experiences, and seemingly supernatural events reveals an intriguing possibility: that under the right conditions, someone could develop extraordinary abilities. But when their thesis moves from the academic to the experimental, things go horribly wrong. Ten years later, Victor breaks out of prison, determined to catch up to his old friend (now foe), aided by a young girl whose reserved nature obscures a stunning ability. Meanwhile, Eli is on a mission to eradicate every other super-powered person that he can find—aside from his sidekick, an enigmatic woman with an unbreakable will. Armed with terrible power on both sides, driven by the memory of betrayal and loss, the archnemeses have set a course for revenge—but who will be left alive at the end?
Radio Silence by Alice Oseman
What if everything you set yourself up to be was wrong?
Frances has always been a study machine with one goal, elite university. Nothing will stand in her way; not friends, not a guilty secret – not even the person she is on the inside.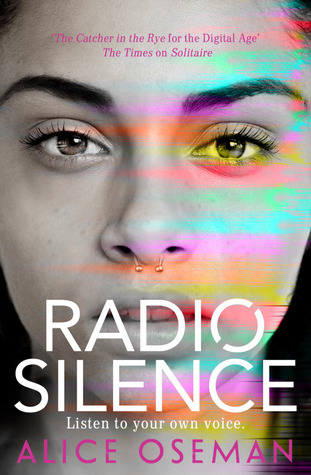 But when Frances meets Aled, the shy genius behind her favourite podcast, she discovers a new freedom. He unlocks the door to Real Frances and for the first time she experiences true friendship, unafraid to be herself. Then the podcast goes viral and the fragile trust between them is broken.
Caught between who she was and who she longs to be, Frances' dreams come crashing down. Suffocating with guilt, she knows that she has to confront her past…
She has to confess why Carys disappeared…
Meanwhile at uni, Aled is alone, fighting even darker secrets.
It's only by facing up to your fears that you can overcome them. And it's only by being your true self that you can find happiness.
Frances is going to need every bit of courage she has.
The End of Our Story by Meg Haston
Meg Haston's romantic and thrilling new YA novel explores a star-crossed high school relationship
in a tale rife with deeply buried secrets and shocking revelations.
Bridge and Wil have been entangled in each other's lives for years. Under the white-hot Florida sun, they went from kids daring each other to swim past the breakers to teenagers stealing kisses between classes. But when Bridge betrayed Wil during their junior year, she shattered his heart and their relationship along with it.
Then Wil's family suffers a violent loss, and Bridge rushes back to Wil's side. As they struggle to heal old wounds and start falling for each other all over again, Bridge and Wil discover just how much has changed in the past year. As the fierce current of tragedy threatens to pull them under, they must learn how to swim on their own—or risk drowning together.
Given to the Sea by Mindy McGinnis
Khosa is Given to the Sea, a girl born to be fed to the water, her flesh preventing a wave like the one that destroyed the Kingdom of Stille in days of old. But before she's allowed to dance – an uncontrollable twitching of the limbs that will carry her to the shore in a frenzy – she must produce an heir. Yet the thought of human touch sends shudders down her spine that not even the sound of the tide can match.
Vincent is third in line to inherit his throne, royalty in a kingdom where the old linger and the young inherit only boredom. When Khosa arrives without an heir he knows his father will ensure she fulfills her duty, at whatever cost. Torn between protecting the throne he will someday fill, and the girl whose fate is tied to its very existence, Vincent's loyalty is at odds with his heart.
Dara and Donil are the last of the Indiri, a native race whose dwindling magic grows weaker as the island country fades. Animals cease to bear young, creatures of the sea take to the land, and the Pietra – fierce fighters who destroyed the Indiri a generation before – are now marching from their stony shores for the twin's adopted homeland, Stille.
Witt leads the Pietra, their army the only family he has ever known. The stone shores harbor a secret, a growing threat that will envelop the entire land – and he will conquer every speck of soil to ensure the survival of his people.
The tides are turning in Stille, where royals scheme, Pietrans march, and the rising sea calls for its Given.
The Upside of Unrequited by Becky Albertalli
Seventeen-year-old Molly Peskin-Suso knows all about unrequited love. No matter how many times her twin sister, Cassie, tells her to woman up, Molly can't stomach the idea of rejection. S
o she's careful. Fat girls always have to be careful.
Then a cute new girl enters Cassie's orbit, and for the first time ever, Molly's cynical twin is a lovesick mess. Meanwhile, Molly's totally not dying of loneliness—except for the part where she is. Luckily, Cassie's new girlfriend comes with a cute hipster-boy sidekick. If Molly can win him over, she'll get her first kiss and she'll get her twin back.
There's only one problem: Molly's coworker, Reid. He's a chubby Tolkien superfan with a season pass to the Ren Faire, and there's absolutely no way Molly could fall for him.
Right?
A Dog's Purpose by W. Bruce Cameron
This is the remarkable story of one endearing dog's search for his purpose over the course of several lives. More than just another charming dog story, this touches on the universal quest for an answer to life's most basic question: Why are we here?


Surprised to find himself reborn as a rambunctious golden haired puppy after a tragically short life as a stray mutt, Bailey's search for his new life's meaning leads him into the loving arms of 8 year old Ethan. During their countless adventures Bailey joyously discovers how to be a good dog. But this life as a beloved family pet is not the end of Bailey's journey. Reborn as a puppy yet again, Bailey wonders, will he ever find his purpose?
Heartwarming, insightful, and often laugh out loud funny, this book is not only the emotional and hilarious story of a dog's many lives, but also a dog's eye commentary on human relationships and the unbreakable bonds between man and man's best friend. This story teaches us that love never dies, that our true friends are always with us, and that every creature on earth is born with a purpose.