I was kindly sent an e-arc of this book via NetGalley in exchange for an honest review.
Synopsis:
In Alicia Cook's second poetic effort, designed in the style of an old mixtape, she sets her thoughts to a nostalgic tune. There is no Table of Contents. Instead, there is a "Track List," making it easy to refer to them to your friends with a, "Hey did you read track seven?!" There are no chapters. Instead, the book is divided into two parts, or as one would say in the 90's, two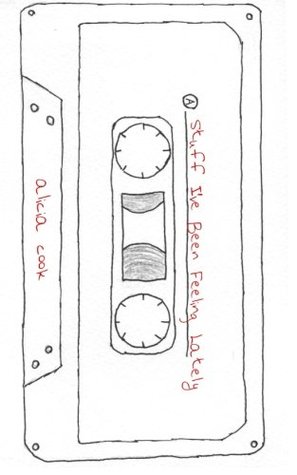 "sides." Side A holds poetry that touches on all aspects of the human condition like life, death, love, moving on, evolving, growing up, hometowns, family dynamic, life after trauma, and make-ups and breakups. Side B holds the "remixes" of these poems, in the form of blackout poetry, also known as "found poetry." Side B gives the material a fresh twist by creating new poetry out of Side A. There is also a very special surprise at the end of each track. 
Alicia decided to self publish this effort after leaving her publishing house. She views this book as her "independence" and official separation from that venture. She also drew the front and back cover herself.
Alicia is a contributing writer for many blogs and news outlets, including the Huffington Post and multiple Gannett Publications. She writes regularly on drug addiction and how it directly affects families. Because of this, she has chosen to donate 100% of royalties to the Willow Tree Center in New Jersey. www.willowtree.org. Follow Alicia on Instagram: @thealiciacook or check out her website: www.thealiciacook.com.
Review:
Stuff I've Been Feeling Lately is a wonderful composition of poems that addresses a plethora of raw, relevant issues. Cook depicts life in it's different lights, from grueling hardships to liberating moments of glory. She explores these complicated circumstances in a way that almost makes them seem utterly transparent, issuing an alternative perspective that you haven't shed light on previously.
Like with all works of poetry, I find there are poems that you read without a second thought, than there are those that are completely eye opening and leave an aching imprint within your heart. Poetry itself is an incredible gift, the ability it has to make you feel so deeply with a few lines or even words. Therefore, I always find it difficult to encapsulate these feelings and transform them into words, it's just something you have to experience yourself by reading it.