Synopsis:
When ninetee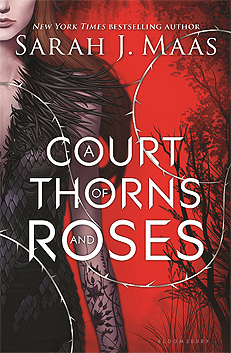 n-year-old huntress Feyre kills a wolf in the woods, a beast-like creature arrives to demand retribution for it. Dragged to a treacherous magical land she only knows about from legends, Feyre discovers that her captor is not an animal, but Tamlin—one of the lethal, immortal faeries who once ruled their world.
As she dwells on his estate, her feelings for Tamlin transform from icy hostility into a fiery passion that burns through every lie and warning she's been told about the beautiful, dangerous world of the Fae. But an ancient, wicked shadow grows over the faerie lands, and Feyre must find a way to stop it . . . or doom Tamlin—and his world—forever.
Review:
I first read A Court of Thorns and Roses last year in may right before reading A Court of Mist and Fury. The first time I read it I REALLY liked it, I loved Tamlin and the whole world, it was a 4 star read. This time, after rereading it, I LOVED it! It was way better the second time around, it was a whole new experience.
If you have yet to read this book, I URGE you to, stop reading this post and pick it up. No seriously, this series is by far one of my favourites, and I am absolutely overwhelmed by the emotions it brings me, so bear with me as this review will probably be a jumbled mess. But here we go…
I love everything about A Court Of Thorns and Roses, it's hard to pick out at any flaws. The writing is utterly beautiful the characters just perfect, the banter hilarious and the romance oh so sexy! When I first read this book it took me a bit to get into it, but the second time around I had no trouble falling straight into the story and the magical world! This time I picked up on a few little things that I didn't notice the first time, and when Rhys showed up I was overwhelmed with joy! Everything was enhanced this time around, I even found myself falling for Tamlin all over again, despite now being team Rhys. That's how good Sarah J. Maas' writing is, I just couldn't help myself! The writing was so whimsical I could feel the magic in the air, and the lush descriptions were incredibly beautiful I found myself sighing with joy. All throughout this book I found myself laughing out loud, smiling and crying, it was a wonderful journey to take again, as I fell in love with the book more the second time around.
My review doesn't give this book justice, you just need to go ahead and read it and experience the absolute pleasure yourself. And even if you somehow don't enjoy this book PLEASE give the second book a chance as it blows the first book out of the water!