Despite how busy I was, May was an exceptional reading month! In May I completed my real estate course, bought a new car, went on a road trip and it was my mum's, cousin's and grandpa's birthday as well as mothers day, so there was lots of celebrating. And let's not forget that A Court of Wings and Ruin was released! I ended up reading a total of 14 and one novella, 8 of which were ARCs. There were four 5 star reads and five 4 star reads! I also got around to re-reading one of my favourite books!
Three Dark Crowns by Kendare Blake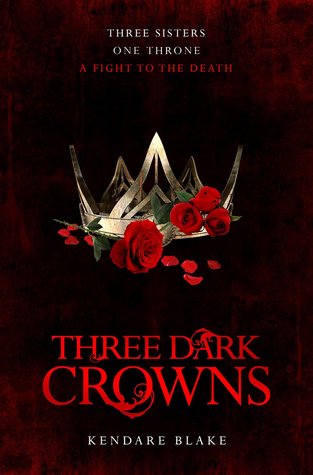 My review    ★★★☆☆
Three sisters. One crown. A fight to the death.
In every generation on the island of Fennbirn, a set of triplets is born: three queens, all equal heirs to the crown and each possessor of a coveted magic. Mirabella is a fierce elemental, able to spark hungry flames or vicious storms at the snap of her fingers. Katharine is a poisoner, one who can ingest the deadliest poisons without so much as a stomachache. Arsinoe, a naturalist, is said to have the ability to bloom the reddest rose and control the fiercest of lions.
But becoming the Queen Crowned isn't solely a matter of royal birth. Each sister has to fight for it. And it's not just a game of win or lose . . . it's life or death. The night the sisters turn sixteen, the battle begins.
The last queen standing gets the crown.
The Cozy Life: Rediscover the Joy of the Simple Things Through the Danish Concept of Hygge by Pia Edberg
My review   ★★★☆☆
In today's world, we're constantly rushing from one thing to the next and are struggling with information overload. We're more disconnected from ourselves and our loved ones than ever before. Rediscover the joy of the simple things through the Danish concept of Hygge in The Cozy Life. This book will inspire you to slow down and enjoy life's cozy moments!
Learn about the Danish cultural phenomenon of Hygge, and the secret to why
Denmark is consistently rated the happiest country in the world
Embrace the little things and take simplicity and minimalism up a notch
Add Hygge into every aspect of your life with practical examples and tips
Say goodbye to the Winter Blues and live a healthier, centred life
This charming little book, filled with hand drawn illustrations, beautifully addresses that yearning we all have for a more authentic life, created by ourselves instead of external forces.
What's stopping you from living a more meaningful and connected life?
A Court of Wings and Ruin by Sarah J. Maas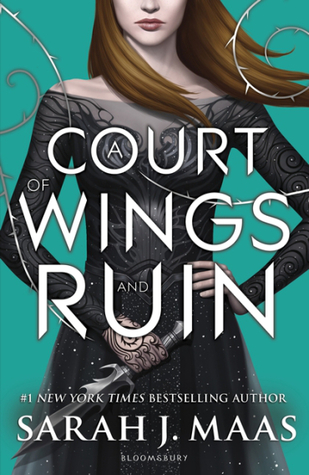 My review   ★★★★★
A nightmare, I'd told Tamlin. I was the nightmare.
Feyre has returned to the Spring Court, determined to gather information on Tamlin's maneuverings and the invading king threatening to bring Prythian to its knees. But to do so she must play a deadly game of deceit—and one slip may spell doom not only for Feyre, but for her world as well. As war bears down upon them all, Feyre must decide who to trust amongst the dazzling and lethal High Lords—and hunt for allies in unexpected places.
Allegedly by Tiffany D. Jackson
My Review   ★★★★☆
Mary B. Addison killed a baby.
Allegedly. She didn't say much in that first interview with detectives, and the media filled in the only blanks that mattered: A white baby had died while under the care of a churchgoing black woman and her nine-year-old daughter. The public convicted Mary and the jury made it official. But did she do it? She wouldn't say.
Mary survived six years in baby jail before being dumped in a group home. The house isn't really "home"—no place where you fear for your life can be considered a home. Home is Ted, who she meets on assignment at a nursing home.
There wasn't a point to setting the record straight before, but now she's got Ted—and their unborn child—to think about. When the state threatens to take her baby, Mary must find the voice to fight her past. And her fate lies in the hands of the one person she distrusts the most: her Momma. No one knows the real Momma. But who really knows the real Mary?
The Statistical Probability of Love at First Sight by Jennifer E. Smith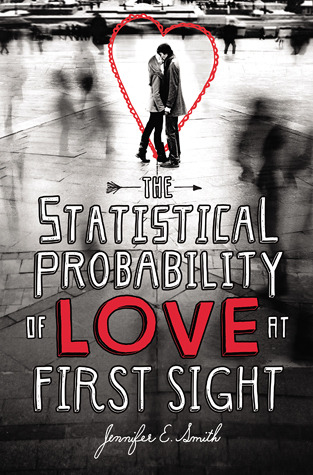 My review    ★★★★☆
Who would have guessed that four minutes could change everything?
Today should be one of the worst days of seventeen-year-old Hadley Sullivan's life. Having missed her flight, she's stuck at JFK airport and late to her father's second wedding, which is taking place in London and involves a soon-to-be stepmother Hadley's never even met. Then she meets the perfect boy in the airport's cramped waiting area. His name is Oliver, he's British, and he's sitting in her row.
A long night on the plane passes in the blink of an eye, and Hadley and Oliver lose track of each other in the airport chaos upon arrival. Can fate intervene to bring them together once more?
Quirks of timing play out in this romantic and cinematic novel about family connections, second chances, and first loves. Set over a twenty-four-hour-period, Hadley and Oliver's story will make you believe that true love finds you when you're least expecting it.
Future Leaders of Nowhere by Emily O'Beirne
My review   ★★★☆☆
"Finn's solid. Not in body, but in being. She's gravity and kindness and all those good things that anchor."
"Willa's confusing. Sometimes she's this sweet, sensitive soul. Other times she's like a flaming arrow you hope isn't coming for you."
Finn and Willa have been picked as team leaders in the future leader camp game. The usually confident Finn doesn't know what's throwing her more, the fact she's leading a team of highly unenthusiastic overachievers or coming up against fierce, competitive Willa. And Willa doesn't know which is harder, leaving her responsibilities behind to pursue her goals or opening up to someone.
Soon they both realise that the hardest thing of all is balancing their clashing ideals with their unexpected connection. And finding a way to win, of course.
Thirteen Reasons Why by Jay Asher
My review  ★★★★☆
You can't stop the future.
You can't rewind the past.
The only way to learn the secret . . . is to press play.
Clay Jensen returns home from school to find a strange package with his name on it lying on his porch. Inside he discovers several cassette tapes recorded by Hannah Baker–his classmate and crush–who committed suicide two weeks earlier. Hannah's voice tells him that there are thirteen reasons why she decided to end her life. Clay is one of them. If he listens, he'll find out why.
Clay spends the night crisscrossing his town with Hannah as his guide. He becomes a firsthand witness to Hannah's pain, and as he follows Hannah's recorded words throughout his town, what he discovers changes his life forever.
These Broken Stars by Amie Kaufman and Meagan Spooner
My review   ★★★★☆
It's a night like any other on board the Icarus. Then, catastrophe strikes: the massive luxury spaceliner is yanked out of hyperspace and plummets to the nearest planet. Lilac LaRoux and Tarver Merendsen survive. And they seem to be alone.
Lilac is the daughter of the richest man in the universe. Tarver comes from nothing, a young war hero who learned long ago that girls like Lilac are more trouble than they're worth. But with only each other to rely on, Lilac and Tarver must work together, making a tortuous journey across the eerie, deserted terrain to seek help.
Then, against all odds, Lilac and Tarver find a strange blessing in the tragedy that has thrown them into each other's arms. Without the hope of a future together in their own world, they begin to wonder – would they be better off staying in this place forever?
Everything changes when they uncover the truth behind the chilling whispers that haunt their every step. Lilac and Tarver may find a way off this planet. But they won't be the same people who landed on it.
The first in a sweeping science fiction trilogy, These Broken Stars is a timeless love story about hope and survival in the face of unthinkable odds.
Goodbye Days by Jeff Zentner
My review   ★★★★☆
Can a text message destroy your life?
Carver Briggs never thought a simple text would cause a fatal crash, killing his three best friends, Mars, Eli, and Blake. Now Carver can't stop blaming himself for the accident and even worse, there could be a criminal investigation into the deaths.
Then Blake's grandmother asks Carver to remember her grandson with a 'goodbye day' together. Carver has his misgivings, but he starts to help the families of his lost friends grieve with their own memorial days, along with Eli's bereaved girlfriend Jesmyn. But not everyone is willing to forgive. Carver's own despair and guilt threatens to pull him under into panic and anxiety as he faces punishment for his terrible mistake. Can the goodbye days really help?
180 Seconds by Jessica Park
My review   ★★★★★
Some people live their entire lives without changing their perspective. For Allison Dennis, all it takes is 180 seconds…
After a life spent bouncing from one foster home to the next, Allison is determined to keep others at arm's length. Adopted at sixteen, she knows better than to believe in the permanence of anything. But as she begins her third year in college, she finds it increasingly difficult to disappear into the white noise pouring from her earbuds.
One unsuspecting afternoon, Allison is roped into a social experiment just off campus. Suddenly, she finds herself in front of a crowd, forced to interact with a complete stranger for 180 seconds. Neither she, nor Esben Baylor, the dreamy social media star seated opposite her, is prepared for the outcome.
When time is called, the intensity of the experience overwhelms Allison and Esben in a way that unnerves and electrifies them both. With a push from her oldest friend, Allison embarks on a journey to find out if what she and Esben shared is the real thing—and if she can finally trust in herself, in others, and in love.
Noteworthy by Riley Redgate
My review  ★★★★★
A cappella just got a makeover.
Jordan Sun is embarking on her junior year at the Kensington-Blaine Boarding School for the Performing Arts, hopeful that this will be her time: the year she finally gets cast in the school musical. But when her low Alto 2 voice gets her shut out for the third straight year—threatening her future at Kensington-Blaine and jeopardizing her college applications—she's forced to consider nontraditional options.
In Jordan's case, really nontraditional. A spot has opened up in the Sharpshooters, Kensington's elite a cappella octet. Worshipped…revered…all male. Desperate to prove herself, Jordan auditions in her most convincing drag, and it turns out that Jordan Sun, Tenor 1, is exactly what the Sharps are looking for.
Jordan finds herself enmeshed in a precarious juggling act: making friends, alienating friends, crushing on a guy, crushing on a girl, and navigating decades-old rivalries. With her secret growing heavier every day, Jordan pushes beyond gender norms to confront what it means to be a girl (and a guy) in a male-dominated society, and—most importantly—what it means to be herself.
When It's Real by Erin Watt
My review   ★★★☆☆
From #1 New York Times bestselling author duo Erin Watt comes the addictive contemporary tale of a teen rock star in need of an image makeover and the teen girl hired to be his fake girlfriend.
Meet Oakley Ford-teen celebrity, renowned pop star, child of famous movie stars, hottie with millions of fangirls… and restless troublemaker. On the surface he has it all, but with his home life disintegrating, his music well suddenly running dry, and the tabloids having a field day over his outrageous exploits, Oakley's team decides it's time for an intervention. The result: an image overhaul, complete with a fake girlfriend meant to show the world he's settled down.
Enter seventeen-year-old Vaughn Bennett-devoted sister, part-time waitress, the definition of "normal." Under ordinary circumstances she'd never have taken this gig, but with her family strapped for cash, she doesn't have much of a choice. And for the money Oakley's team is paying her, she figures she can put up with outlandish Hollywood parties and a team of publicists watching her every move. So what if she thinks Oakley's a shallow, self-centered jerk? It's not like they're going to fall for each other in real life…right?
This Shattered World by Amie Kaufman and Meagan Spooner
My review   ★★☆☆☆
The second installment in the epic Starbound trilogy introduces a new pair of star-crossed lovers on two sides of a bloody war.
Jubilee Chase and Flynn Cormac should never have met.
Lee is captain of the forces sent to Avon to crush the terraformed planet's rebellious colonists, but she has her own reasons for hating the insurgents.
Rebellion is in Flynn's blood. Terraforming corporations make their fortune by recruiting colonists to make the inhospitable planets livable, with the promise of a better life for their children. But they never fulfilled their promise on Avon, and decades later, Flynn is leading the rebellion.
Desperate for any advantage in a bloody and unrelentingly war, Flynn does the only thing that makes sense when he and Lee cross paths: he returns to base with her as prisoner. But as his fellow rebels prepare to execute this tough-talking girl with nerves of steel, Flynn makes another choice that will change him forever. He and Lee escape the rebel base together, caught between two sides of a senseless war.
The stunning second novel in the Starbound trilogy is an unforgettable story of love and forgiveness in a world torn apart by war.
One Of Us Is Lying by Karen McManus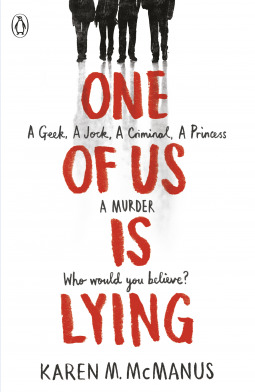 Review coming on Saturday!   ★★★★★
Yale hopeful Bronwyn has never publicly broken a rule.
Sports star Cooper only knows what he's doing in the baseball diamond.
Bad body Nate is one misstep away from a life of crime.
Prom queen Addy is holding together the cracks in her perfect life.
And outsider Simon, creator of the notorious gossip app at Bayview High, won't ever talk about any of them again.
He dies 24 hours before he could post their deepest secrets online. Investigators conclude it's no accident. All of them are suspects.
Everyone has secrets, right?
What really matters is how far you'll go to protect them.
How many books did you get around to reading in May? Have you read any of these book? Let me know!