Mailbox Monday is a meme created by Marcia of To Be Continued, you can find the dedicated blog here
This week I acquired two arcs and 8 hardcover books for $40 including postage! I don't know about you but that's definitely a bargain here in Australia where paperbacks are $20 each!
Sent for review:
City of Saints and Thieves by Natalie C. Anderson
Street-thief Tin
a breaks in to the luxurious house where her mother was killed to steal from Mr. Greyhill and nail him for her mother's murder. She is caught red-handed.
Saved by Mr. Greyhill's gorgeous son, Michael, the pair set in motion a cascade of dangerous events that lead them deeper into the mystery, and reveal dark and shocking secrets from Tina's past.
Tina and her mother fled the Congo years ago as refugees, trading the uncertain danger of their besieged village for a new, safer life in the bustling Kenyan metropolis. The corruption and politics of the Congo, and the gangster world of Sangui City, are behind Tina's mother's downfall. Is Tina tough enough to find the truth and bring the killer to justice?
Aftercare Instructions by Bonnie Pipkin
In the tradition of Jandy Nelson and Rainbow Rowell, a big-hearted journey of furious friendship, crazy love, and unexpected hope after a teen's decision to end an unwanted pregnancy
"Troubled." That's seventeen-year-old Genesis according to her small New Jersey town. She finds refuge and stability in her relationship with her boyfrie
nd, Peter—until he abandons her at a Planned Parenthood clinic during their appointment to terminate an unwanted pregnancy. The betrayal causes Gen to question everything.
As Gen pushes herself forward to find her new identity without Peter, she must also confront her most painful memories. Through the lens of an ongoing four act play within the novel, the fantasy of their undying love unravels line by line, scene by scene. Digging deeper into her past while exploring the underground theater world of New York City, she rediscovers a long-forgotten dream. But it's when Gen lets go of her history, the one she thinks she knows, that she's finally able to embrace the complicated, chaotic true story of her life, and take center stage.
This powerfully immersive and format-crushing debut follows Gen from dorm rooms to diners to house parties to auditions—and ultimately, right into readers' hearts.
Physical books:
The Secret Hum of a Daisy by Tracy Holczer
Twelve-year-old Grace
and her mother have always been their own family, traveling from place to place like gypsies. But Grace wants to finally have a home all their own. Just when she thinks she's found it her mother says it's time to move again. Grace summons the courage to tell her mother how she really feels and will always regret that her last words to her were angry ones.
After her mother's sudden death, Grace is forced to live with a grandmother she's never met. She can't imagine her mother would want her to stay with this stranger. Then Grace finds clues in a mysterious treasure hunt, just like the ones her mother used to send her on. Maybe it is her mother, showing her the way to her true home.
Lyrical, poignant and fresh, The Secret Hum of a Daisy is a beautifully told middle grade tale with a great deal of heart.
Days of Blood and Starlight by Laini Taylor
Once upon a time, an angel and a devil fell in love and dared to imagine a world free of bloodshed and war.
This is not that world.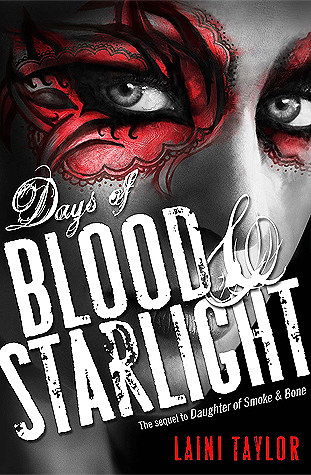 Art student and monster's apprentice Karou finally has the answers she has always sought. She knows who she is—and what she is. But with this knowledge comes another truth she would give anything to undo: She loved the enemy and he betrayed her, and a world suffered for it.
In this stunning sequel to the highly acclaimed Daughter of Smoke & Bone, Karou must decide how far she'll go to avenge her people. Filled with heartbreak and beauty, secrets and impossible choices, Days of Blood & Starlight finds Karou and Akiva on opposing sides as an age-old war stirs back to life.
While Karou and her allies build a monstrous army in a land of dust and starlight, Akiva wages a different sort of battle: a battle for redemption. For hope.
But can any hope be salvaged from the ashes of their broken dream?
Golden by Jessi Kirby
Seventeen-year-old Parker Frost has never taken the road less traveled. Valedictorian and quintessential good girl, she's about to graduate high school without ever having kissed her crush or broken the rules. So when fate drops a clue in her lap—one that might be the key t
o unraveling a town mystery—she decides to take a chance.
Julianna Farnetti and Shane Cruz are remembered as the golden couple of Summit Lakes High—perfect in every way, meant to be together forever. But Julianna's journal tells a different story—one of doubts about Shane and a forbidden romance with an older, artistic guy. These are the secrets that were swept away with her the night that Shane's jeep plunged into an icy river, leaving behind a grieving town and no bodies to bury.
Reading Julianna's journal gives Parker the courage to start to really live—and it also gives her reasons to question what really happened the night of the accident. Armed with clues from the past, Parker enlists the help of her best friend, Kat, and Trevor, her longtime crush, to track down some leads. The mystery ends up taking Parker places that she never could have imagined. And she soon finds that taking the road less traveled makes all the difference.
Hex Hall by Rachel Hawkins
Three years ago, Sophie Mercer discovered that she was a witch. It's gotten her into a few scrapes. Her non-gifted mother has been as supportive as possible, consulting Sophie's estranged father—an elusive European warlock—only when necessary. But when Sophie attracts too much human attention for a prom-night spell gone horr
ibly wrong, it's her dad who decides her punishment: exile to Hex Hall, an isolated reform school for wayward Prodigium, a.k.a. witches, faeries, and shapeshifters.
By the end of her first day among fellow freak-teens, Sophie has quite a scorecard: three powerful enemies who look like supermodels, a futile crush on a gorgeous warlock, a creepy tag-along ghost, and a new roommate who happens to be the most hated person and only vampire student on campus. Worse, Sophie soon learns that a mysterious predator has been attacking students, and her only friend is the number-one suspect.
As a series of blood-curdling mysteries starts to converge, Sophie prepares for the biggest threat of all: an ancient secret society determined to destroy all Prodigium, especially her.
The Girl of Fire and Thorns by Rae Carson
Once a century, one person is chosen for greatness.
Elisa is the chosen one.
But she is also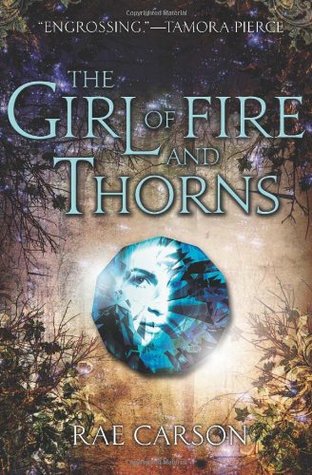 the younger of two princesses, the one who has never done anything remarkable. She can't see how she ever will.
Now, on her sixteenth birthday, she has become the secret wife of a handsome and worldly king—a king whose country is in turmoil. A king who needs the chosen one, not a failure of a princess.
And he's not the only one who seeks her. Savage enemies seething with dark magic are hunting her. A daring, determined revolutionary thinks she could be his people's savior. And he looks at her in a way that no man has ever looked at her before. Soon it is not just her life, but her very heart that is at stake.
Elisa could be everything to those who need her most. If the prophecy is fulfilled. If she finds the power deep within herself. If she doesn't die young.
Most of the chosen do.
The Crown of Embers by Rae Carson
She does not know what awaits her at the enemy's gate.
Elisa is a hero.
She led her people to victory over a terrifying, sorcerous army. Her place as the country's ruler should be secure. But it isn't.
Her enemies come at her like ghosts in a dream, from foreign realms and even from within her own court. And her destiny as the chosen one has not yet been fulfilled.
To conquer the power she bears, once and for all, Elisa must follow a trial of long-forgotten—and forbidden—clues, from the deep, hidden catacombs of her own city to the treacherous seas. With her go a one-eyed spy, a traitor, and the man whom—despite everything—she is falling in love with.
If she's lucky, she will return from this journey. But there will be a cost.
Leviathan by Scott Westfeld
Prince Aleksan
der, would-be heir to the Austro-Hungarian throne, is on the run. His own people have turned on him. His title is worthless. All he has is a battletorn war machine and a loyal crew of men.
Deryn Sharp is a commoner, disguised as a boy in the British Air Service. She's a brilliant airman. But her secret is in constant danger of being discovered.
With World War I brewing, Alek and Deryn's paths cross in the most unexpected way…taking them on a fantastical, around-the-world adventure that will change both their lives forever.
Behemoth by Scott Westerfeld
The behemoth is the fiercest creature in the
British navy. It can swallow enemy battleships with one bite. The Darwinists will need it, now that they are at war with the Clanker powers.
Deryn is a girl posing as a boy in the British Air Service, and Alek is the heir to an empire posing as a commoner. Finally together aboard the airship Leviathan, they hope to bring the war to a halt. But when disaster strikes the Leviathan's peacekeeping mission, they find themselves alone and hunted in enemy territory.
Alek and Deryn will need great skill, new allies, and brave hearts to face what's ahead.