Three Dark Cro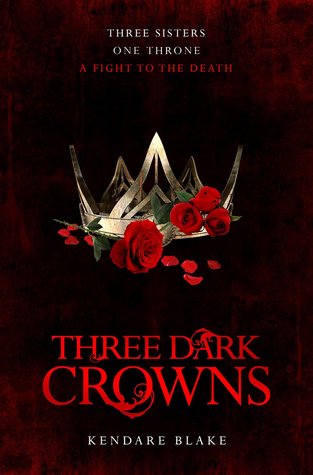 wns by Kendare Blake
Published by Pan Macmillan Australia on 27th September 2016
Genres: Fantasy, young adult, magic
Pages: 404
Goodreads
Three sisters. One crown. A fight to the death.
In every generation on the island of Fennbirn, a set of triplets is born: three queens, all equal heirs to the crown and each possessor of a coveted magic. Mirabella is a fierce elemental, able to spark hungry flames or vicious storms at the snap of her fingers. Katharine is a poisoner, one who can ingest the deadliest poisons without so much as a stomachache. Arsinoe, a naturalist, is said to have the ability to bloom the reddest rose and control the fiercest of lions.
But becoming the Queen Crowned isn't solely a matter of royal birth. Each sister has to fight for it. And it's not just a game of win or lose . . . it's life or death. The night the sisters turn sixteen, the battle begins.
The last queen standing gets the crown.
Review:
Three Dark Crowns captured my attention the minute I read the synopsis, three triplets who have to fight to the death, for one of them to be crowned queen. The premise made the book sound like an action-packed story overflowing with magic. However, it turned out to be a lot different to what I was expecting.
This book is told in third person and follows the three queens along with their friends. I found the majority of the book was build up for the huge festival in the end when they have to murder each other. There were a lot of preparations, queens still trying to uncover their magical abilities and getting to know the three provinces. I didn't find this to be particularly riveting, which made it feel like a slow read. It took me a while to get through the book, and I wasn't necessarily invested in any of the characters. There is some romance, but it isn't overly heated romance that greatly enhances the story.
Things really began to pick up at the end of the book, there were some plot twists and a massive cliff hanger that made me hungry for the second book. I think you will enjoy this story if you're into slow drawn out books that don't have outrageous plot lines, with secrets, rumours, magic and betrayal.
★★★
I was kindly sent an e-arc of this book via NetGalley in exchange for an honest review