May is an incredible month for new releases, and i've received many arcs to review so prepare yourselves for a big TBR this month!
Three Dark Crowns by Kendare Blake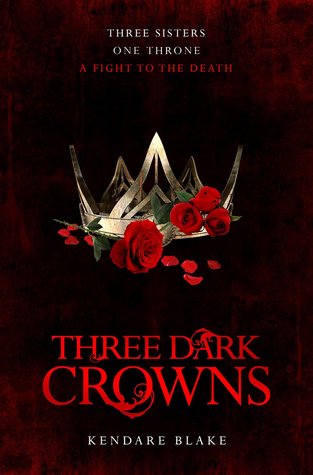 I have already read and reviewed this book, you can read my review here
Three sisters. One crown. A fight to the death.
In every generation on the island of Fennbirn, a set of triplets is born: three queens, all equal heirs to the crown and each possessor of a coveted magic. Mirabella is a fierce elemental, able to spark hungry flames or vicious storms at the snap of her fingers. Katharine is a poisoner, one who can ingest the deadliest poisons without so much as a stomachache. Arsinoe, a naturalist, is said to have the ability to bloom the reddest rose and control the fiercest of lions.
But becoming the Queen Crowned isn't solely a matter of royal birth. Each sister has to fight for it. And it's not just a game of win or lose . . . it's life or death. The night the sisters turn sixteen, the battle begins.
The last queen standing gets the crown.
A Court of Wings and Ruin by Sarah J. Maas
Looming war threatens all Feyre holds dear in the third volume of the #1 New York Times bestselling A Court of Thorns and Roses series.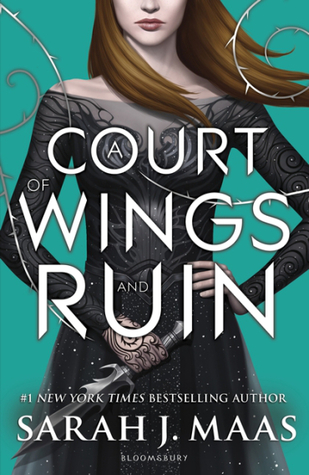 Feyre has returned to the Spring Court, determined to gather information on Tamlin's maneuverings and the invading king threatening to bring Prythian to its knees. But to do so she must play a deadly game of deceit-and one slip may spell doom not only for Feyre, but for her world as well.
As war bears down upon them all, Feyre must decide who to trust amongst the dazzling and lethal High Lords-and hunt for allies in unexpected places.
In this thrilling third book in the #1 New York Times bestselling series from Sarah J. Maas, the earth will be painted red as mighty armies grapple for power over the one thing that could destroy them all.
Allegedly by Tiffany D. Jackson
Mary B. Addison killed a baby.
Allegedly. She didn
't say much in that first interview with detectives, and the media filled in the only blanks that mattered: A white baby had died while under the care of a churchgoing black woman and her nine-year-old daughter. The public convicted Mary and the jury made it official. But did she do it? She wouldn't say.
Mary survived six years in baby jail before being dumped in a group home. The house isn't really "home"—no place where you fear for your life can be considered a home. Home is Ted, who she meets on assignment at a nursing home.
There wasn't a point to setting the record straight before, but now she's got Ted—and their unborn child—to think about. When the state threatens to take her baby, Mary must find the voice to fight her past. And her fate lies in the hands of the one person she distrusts the most: her Momma. No one knows the real Momma. But who really knows the real Mary?
Future Leaders of Nowhere by Emily O'Beirne
"Finn's solid. Not in body, but in being. She's gravity and kindness and all those good things that anchor."


"Willa's confusing. Sometimes she's this sweet, sensitive soul. Other times she's like a flaming arrow you hope isn't coming for you."
Finn and Willa have been picked as team leaders in the future leader camp game. The usually confident Finn doesn't know what's throwing her more, the fact she's leading a team of highly unenthusiastic overachievers or coming up against fierce, competitive Willa. And Willa doesn't know which is harder, leaving her responsibilities behind to pursue her goals or opening up to someone.
Soon they both realise that the hardest thing of all is balancing their clashing ideals with their unexpected connection. And finding a way to win, of course.
Goodbye Days by Jeff Zentner
What if you could spend one last day with someone you lost?
One day Carver Briggs had it all—three best friends, a supportive family, and a reputation as a talented writer at his high school, Nashville Academy for the Arts.
The next day he lost it all when he sent a simple text to his friend Mars, right before Mars, Eli, and Blake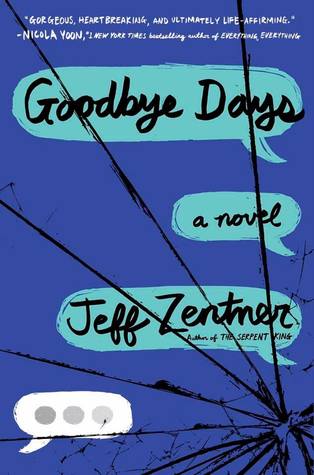 were killed in a car crash.
Now Carver can't stop blaming himself for the accident, and he's not the only one. Eli's twin sister is trying to freeze him out of school with her death-ray stare. And Mars's father, a powerful judge, is pressuring the district attorney to open a criminal investigation into Carver's actions.
Luckily, Carver has some unexpected allies: Eli's girlfriend, the only person to stand by him at school; Dr. Mendez, his new therapist; and Blake's grandmother, who asks Carver to spend a Goodbye Day with her to share their memories and say a proper goodbye to his friend.
Soon the other families are asking for a Goodbye Day with Carver, but he's unsure of their motives. Will they all be able to make peace with their losses, or will these Goodbye Days bring Carver one step closer to a complete breakdown or—even worse—prison?
180 Seconds by Jessica Park
Some people live their entire lives without changing their perspective. For Allison Dennis, all it takes is 180 seconds…
After a life spent bouncing from one foster home to the next, Allison is determined to keep others at arm's length. Adopted at sixteen, she knows better than to believe in the permanence of anything. But as she begins her third year in co
llege, she finds it increasingly difficult to disappear into the white noise pouring from her earbuds.
One unsuspecting afternoon, Allison is roped into a social experiment just off campus. Suddenly, she finds herself in front of a crowd, forced to interact with a complete stranger for 180 seconds. Neither she, nor Esben Baylor, the dreamy social media star seated opposite her, is prepared for the outcome.
When time is called, the intensity of the experience overwhelms Allison and Esben in a way that unnerves and electrifies them both. With a push from her oldest friend, Allison embarks on a journey to find out if what she and Esben shared is the real thing—and if she can finally trust in herself, in others, and in love.
Noteworthy by Riley Redgate
It's the s
tart of Jordan Sun's junior year at the Kensington-Blaine Boarding School for the Performing Arts. Unfortunately, she's an Alto 2, which—in the musical theatre world—is sort of like being a vulture in the wild: She has a spot in the ecosystem, but nobody's falling over themselves to express their appreciation. So it's no surprise when she gets shut out of the fall musical for the third year straight.
Then the school gets a mass email: A spot has opened up in the Sharpshooters, Kensington's elite a cappella octet. Worshiped … revered … all male. Desperate to prove herself, Jordan auditions in her most convincing drag, and it turns out that Jordan Sun, Tenor 1, is exactly what the Sharps are looking for.
The Little Book of Hygge: The Danish Way to Live Well
Denmark is often said to be the happiest country in the world. That's down to one thing: hygge.
'Hygge has been translated as everything from the art of creating intimacy to cosiness of the soul to taking pleasure from the presence of soothing things. My personal favourite is cocoa by candlelight…'
You know hygge when you feel it. It is when you are cuddled up on a sofa with a loved one, or sharing comfort food with your closest friends. It is those crisp blue mornings when the light through your window is just right.
Who better than Meik Wiking to be your guide to all things hygge? Meik is CEO of the Happiness Research Institute in Copenhagen and has spent years studying the magic of Danish life. In this beautiful, inspiring book he will help you be more hygge: from picking the right lighting and planning a dinner party through to creating an emergency hygge kit and even how to dress.
Meik Wiking is the CEO of the Happiness Research Institute in Copenhagen. He is committed to finding out what makes people happy and has concluded that hygge is the magic ingredient that makes Danes the happiest nation in the world.
Thirteen Reasons Why by Jay Asher
Clay Jensen retu
rns home from school to find a mysterious box with his name on it lying on his porch. Inside he discovers thirteen cassette tapes recorded by Hannah Baker, his classmate and crush who committed suicide two weeks earlier.
On tape, Hannah explains that there are thirteen reasons why she decided to end her life. Clay is one of them. If he listens, he'll find out how he made the list.
Through Hannah and Clay's dual narratives, debut author Jay Asher weaves an intricate and heartrending story of confusion and desperation that will deeply affect teen readers.
What books are on your TBR for May? Let me know if you've read any of these books and your thoughts on them, or if any of these books are on your TBR!