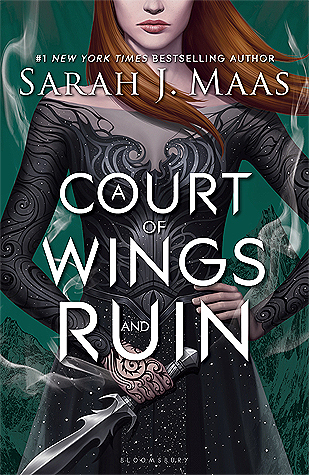 A Court of Wings and Ruin by Sarah J. Maas
Published by Bloomsbury on May 2 2017
Genres: Fantasy, new adult, romance
Pages: 705
Goodreads
A nightmare, I'd told Tamlin. I was the nightmare.
Feyre has returned to the Spring Court, determined to gather information on Tamlin's maneuverings and the invading king threatening to bring Prythian to its knees. But to do so she must play a deadly game of deceit—and one slip may spell doom not only for Feyre, but for her world as well. As war bears down upon them all, Feyre must decide who to trust amongst the dazzling and lethal High Lords—and hunt for allies in unexpected places.
REVIEW:
As with all the books in this series, after finishing A Court of Wings and Ruin I am an utter incoherent mess. My emotions are in shambles and I am feeling one thousand different things at once, my heart is aching and my mind is complete chaos. If that doesn't already sell you on the book, I'll attempt to explain why this book made me feel this way…
First of all, one of my favourite aspects of this series is the characters and the romance (of course). Every single one of the characters are fully fleshed out, they are strong, snarky and they honestly feel like one big old family! Even the minor characters are loveable, every interaction is interesting and even just listening to them talk over dinner is a such a pleasure. Of course my favourite characters are Rhys and Feyre without a doubt. Feyre for one is the ultimate female character and she undergoes enormous character growth. She's incredibly strong, defiant and humorous, she never backs down from a challenge. If she wants something she will get it and do so herself, she is capable of doing anything and she knows it! Then there's Rhys *sigh*, he is utter perfection. Like Feyre he is fierce and powerful but he also has the most adorable heart made of gold. The relationship between Rhys and Feyre is my all time favourite, I love the dynamic, how they treat each other as equals and never hold each other back. The overwhelming amount of respect they have for one another is incredible! Together they are the ultimate team!
Like with the other two books, the world and descriptions feel so real. I can picture every situation and I understand the complexities of the fae world, everything just fits into place. This book is just so magical, from the different courts to the magic itself and the overall beauty of the fae realm, it's absolutely breath-taking. Sarah also creates a lot more diversity in this book which was refreshing to read about.
Although I adore this book, it felt different to A Court of Mist and Fury, a different feeling that for the life of me I cannot explain. Of course the story progresses but there's just something different about it, apart from the lack of angst. I think A Court of Mist and Fury will always have a special place in my heart, for the immense turn it took from the first book which we all weren't expecting. Nevertheless, A Court of Wings and Ruin was still a fantastic conclusion to this trilogy, although I do hope to see more of the characters in future books.
If you haven't already picked up this series PLEASE do so. It's incredibly addicting and you will fall in love with the characters and the world!
★★★★★
Have you read any of the books in this series? If so let me know what you thought!