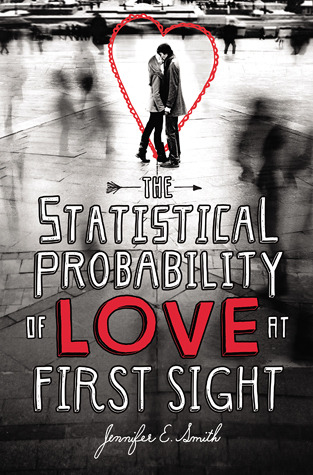 The Statistical Probability of Love at First Sight by Jennifer E. Smith
Published by Poppy/Little Brown on January 2 2012
Genres: Young adult, romance, contemporary, fiction, realistic fiction
Goodreads
Who would have guessed that four minutes could change everything?
Today should be one of the worst days of seventeen-year-old Hadley Sullivan's life. Having missed her flight, she's stuck at JFK airport and late to her father's second wedding, which is taking place in London and involves a soon-to-be stepmother Hadley's never even met. Then she meets the perfect boy in the airport's cramped waiting area. His name is Oliver, he's British, and he's sitting in her row.
A long night on the plane passes in the blink of an eye, and Hadley and Oliver lose track of each other in the airport chaos upon arrival. Can fate intervene to bring them together once more?
Quirks of timing play out in this romantic and cinematic novel about family connections, second chances, and first loves. Set over a twenty-four-hour-period, Hadley and Oliver's story will make you believe that true love finds you when you're least expecting it.
REVIEW:
I read this for the first time a while back, when I had first discovered the book community. It was one of the first books I read after I started getting more into reading and I distinctly remember absolutely loving it! I rated it 5 stars, and after re-reading this, I can say that this was an adorable read however the second time around I wouldn't rate it 5 stars, it goes to show how my reading tastes and rating system evolve over time.
I decided to pick up this book for the second time as I wanted to read a happy contemporary to brighten my mood and I knew The Statistical Probability of Love at First Sight would do just the trick. I sat down and whizzed through it in a couple hours, this book sucks you in from the very beginning and it's a very short read as it takes place in only 24 hours!
I adore the characters in this book, they're the big reason why this book shines, of course without these two characters there wouldn't be this cute epic love story! Hadley is a great character, she's smart and funny yet also relatable with her dysfunctional family. And Oliver is so cute and adorable, I love his witty remarks and how respectful he is toward Hadley.
Despite this book taking place in 24 hours, this book is a complete whirlwind of evens! It touches on topics such as family, death and mental illness. Although this book does revolve around Hadley and Oliver's love story it also focuses on Hadley's relationship with her dad as they try to smooth out the rough patches.
Overall, The Statistical Probability of Love at First sight is a an adorable, fluffy fly-through-this-book-in-one-sitting read that will put a smile on your face! If you enjoyed Anna and the French Kiss I also think you'll enjoy this!
★★★★