Mailbox Monday is a meme created by Marcia of To Be Continued, you can find the dedicated blog here.
Last week was fantastic as I found 5 paperback books for $10, that's $2 each!
ARCs received
Odd & True by Cat Winters
Trudchen grew up hearing Odette's stories of their monster-slaying mother and a magician's curse. But now that Tru's older, she's starting to wonder if her older sister's tales were just comforting lies, especially because there's nothing fantastic about her own life—permanently disabled and in constant pain from childhood polio.
In 1909, after a two-year absence, Od reappears with a suitcase supposedly full of weapons and a promise to rescue Tru from the monsters on their way to attack her. But it's Od who seems haunted by something. And when the sisters' search for their mother leads them to a face-off with the Leeds Devil, a nightmarish beast that's wreaking havoc in the Mid-Atlantic states, Tru discovers the peculiar possibility that she and her sister—despite their dark pasts and ordinary appearances—might, indeed, have magic after all.
The Impossible Vastness of Us by Samantha Young
I know how to watch my back. I'm the only one that ever has.
India Maxwell hasn't just moved across the country — she's plummeted to the bottom rung of the social ladder. It's taken years to cover the mess of her home life with a veneer of popularity. Now she's living in one of Boston's wealthiest neighbourhoods with her mum's fiancé and his daughter, Eloise. Thanks to her soon-to-be stepsister's clique of friends, including Eloise's gorgeous, arrogant boyfriend Finn, India feels like the one thing she hoped never to be seen as again: trash.
But India's not alone in struggling to control the secrets of her past. Eloise and Finn, the school's golden couple, aren't all they seem to be. In fact, everyone's life is infinitely more complex than it first appears. And as India grows closer to Finn and befriends Eloise, threatening the facades that hold them together, what's left are truths that are brutal, beautiful, and big enough to change them forever…
Physical books
Spellcaster by Claudia Gray
When Nadia's family moves to Captive's Sound, she instantly realizes there's more to it than meets the eye. Descended from witches, Nadia senses a dark and powerful magic at work in her new town. Mateo has lived in Captive's Sound his entire life, trying to dodge the local legend that his family is cursed – and that curse will cause him to believe he's seeing the future … until it drives him mad. When the strange dreams Mateo has been having of rescuing a beautiful girl—Nadia—from a car accident come true, he knows he's doomed.
Despite the forces pulling them apart, Nadia and Mateo must work together to break the chains of his family's terrible curse, and to prevent a disaster that threatens the lives of everyone around them. Shimmering with magic and mystery, New York Times bestselling author Claudia Gray's new novel is sure to draw fans of the Hex Hall and Caster Chronicles series, and fans of the hit CW TV show The Secret Circle.
Steadfast by Claudia Gray
Nadia, Mateo, and Verlaine have saved Captive's Sound from the dark Sorceress Elizabeth…or so they thought. Despite their best efforts, a crack opened and a new, greater evil seeped through. With Mateo as her Steadfast, Nadia's magic is magnified and she is more powerful than ever. But there is still so much she doesn't know about the craft, leaving her open and vulnerable to a darker magic…which has begun to call Nadia's name.
Sorceress by Claudia Gray
To save the lives of countless people in Captive's Sound, Nadia has sworn herself to the One Beneath, to black magic. Her plan, and the town's only hope, is for Nadia to learn enough sorcery to strike back against the forces of darkness. But now that she's separated from her friends, her family, and her Steadfast, Mateo, Nadia is more vulnerable than ever to darkness. And as the sorceress Elizabeth summons torrential rains and brings the One Beneath closer to the mortal world, Nadia is running out of time to stop her. The final battle lines are drawn, surprising alliances are made, and true love is tested in the action-packed conclusion to the breathtaking Spellcaster series.
Sorceress is richly woven with New York Times bestselling author Claudia Gray's signature dark magic, captivating mystery, and star-crossed romance.
Scent of Magic by Maria V. Snyder
Hunted, Killed—Survived?
As the last Healer in the Fifteen Realms, Avry of Kazan is in a unique position: in the minds of her friends and foes alike, she no longer exists. Despite her need to prevent the megalomanical King Tohon from winning control of the Realms, Avry is also determined to find her sister and repair their estrangement. And she must do it alone, as Kerrick, her partner and sole confident, returns to Alga to summon his country into battle.
Though she should be in hiding, Avry will do whatever she can to support Tohon's opponents. Including infiltrating a holy army, evading magic sniffers, teaching forest skills to soldiers and figuring out how to stop Tohon's most horrible creations yet; an army of the walking dead—human and animal alike and nearly impossible to defeat.
War is coming and Avry is alone. Unless she figures out how to do the impossible … again
Iron Warrior by Julia Kagawa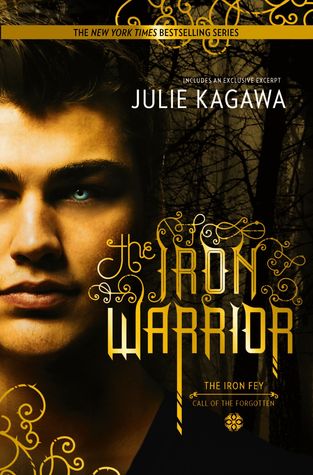 The Iron Prince—my nephew—betrayed us all.
He killed me.
Then, I woke up.
Waking after a month on the brink of death, Ethan Chase is stunned to learn that the Veil that conceals the fey from human sight was temporarily torn away. Although humankind's glimpse of the world of Faery lasted just a brief moment, the human world has been cast into chaos, and the emotion and glamour produced by fear and wonder has renewed the tremendous power of the Forgotten Queen. Now, she is at the forefront of an uprising against the courts of Summer and Winter—a reckoning that will have cataclysmic effects on the Nevernever.
Leading the Lady's Forgotten Army is Keirran himself: Ethan's nephew, and the traitor son of the Iron Queen, Meghan Chase.To stop Keirran, Ethan must disobey his sister once again as he and his girlfriend, Kenzie, search for answers long forgotten. In the face of unprecedented evil and unfathomable power, Ethan's enemies must become his allies, and the world of the fey will be changed forevermore.
eBooks
Flame in the Mist by Renee Ahdieh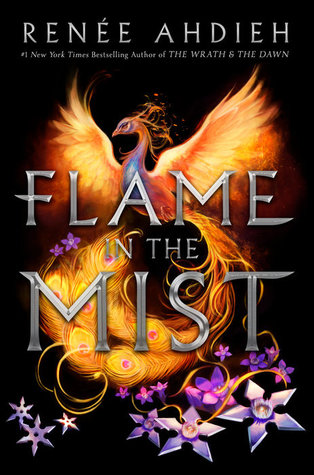 The only daughter of a prominent samurai, Mariko has always known she'd been raised for one purpose and one purpose only: to marry. Never mind her cunning, which rivals that of her twin brother, Kenshin, or her skills as an accomplished alchemist. Since Mariko was not born a boy, her fate was sealed the moment she drew her first breath.
So, at just seventeen years old, Mariko is sent to the imperial palace to meet her betrothed, a man she did not choose, for the very first time. But the journey is cut short when Mariko's convoy is viciously attacked by the Black Clan, a dangerous group of bandits who've been hired to kill Mariko before she reaches the palace.
The lone survivor, Mariko narrowly escapes to the woods, where she plots her revenge. Dressed as a peasant boy, she sets out to infiltrate the Black Clan and hunt down those responsible for the target on her back. Once she's within their ranks, though, Mariko finds for the first time she's appreciated for her intellect and abilities. She even finds herself falling in love—a love that will force her to question everything she's ever known about her family, her purpose, and her deepest desires.
The Love Interest by Cale Dietrich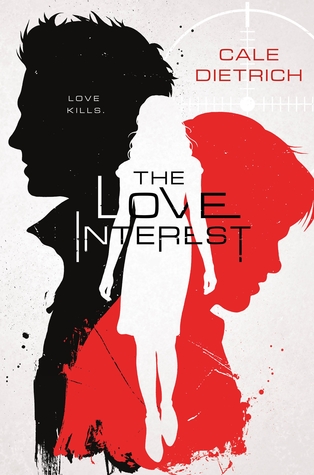 There is a secret organization that cultivates teenage spies. The agents are called Love Interests because getting close to people destined for great power means getting valuable secrets.
Caden is a Nice: The boy next door, sculpted to physical perfection. Dylan is a Bad: The brooding, dark-souled guy, and dangerously handsome. The girl they are competing for is important to the organization, and each boy will pursue her. Will she choose a Nice or the Bad?
Both Caden and Dylan are living in the outside world for the first time. They are well-trained and at the top of their games. They have to be – whoever the girl doesn't choose will die.
What the boys don't expect are feelings that are outside of their training. Feelings that could kill them both.
Rides by Veronica Rossi
Nothing but death can keep eighteen-year-old Gideon Blake from achieving his goal of becoming a U.S. Army Ranger. As it turns out, it does.
While recovering from the accident that most definitely killed him, Gideon finds himself with strange new powers and a bizarre cuff he can't remove. His death has brought to life his real destiny. He has become War, one of the legendary four horsemen of the apocalypse.
Over the coming weeks, he and the other horsemen—Conquest, Famine, and Death—are brought together by a beautiful but frustratingly secretive girl to help save humanity from an ancient evil on the emergence.
They fail.
Now—bound, bloodied, and drugged—Gideon is interrogated by the authorities about his role in a battle that has become an international incident. If he stands any chance of saving his friends and the girl he's fallen for—not to mention all of humankind—he needs to convince the skeptical government officials the world is in imminent danger.
But will anyone believe him?
Seeker by Veronica Rossi
When Daryn claimed she was seeing visions during her sophomore year of high school, no one believed the truth.
She wasn't losing her mind; she was gaining the Sight—the ability to see the future. Daryn embraced her role as a Seeker. The work she did was important. She saved lives.
Until Sebastian.
Sebastian was her first—and worst—mistake.
Since the moment she inadvertently sealed him in a dark dimension with Samrael, the last surviving demon of the Kindred, guilt has plagued her. Daryn knows Sebastian is alive and waiting for help. It's up to her to rescue him. But now that she needs the Sight more than ever to guide her, the visions have stopped.
Daryn must rely on instincts, intelligence, and blind faith to lead the riders who are counting on her in search of Sebastian. As they delve into a shadowy realm where nothing is as it seems and where Samrael is steadily amassing power, Daryn faces the ultimate test. Will she have to become evil to destroy evil?
The very fate of humankind may rest in the answer.
Marlena by Julie Buntin
An electric debut novel about love, addiction, and loss; the story of two girls and the feral year that will cost one her life, and define the other's for decades
Everything about fifteen-year-old Cat's new town in rural Michigan is lonely and off-kilter, until she meets her neighbor, the manic, beautiful, pill-popping Marlena. Cat, inexperienced and desperate for connection, is quickly lured into Marlena's orbit by little more than an arched eyebrow and a shake of white-blond hair. As the two girls turn the untamed landscape of their desolate small town into a kind of playground, Cat catalogues a litany of firsts—first drink, first cigarette, first kiss—while Marlena's habits harden and calcify. Within the year, Marlena is dead, drowned in six inches of icy water in the woods nearby. Now, decades later, when a ghost from that pivotal year surfaces unexpectedly, Cat must try to forgive herself and move on, even as the memory of Marlena keeps her tangled in the past.

Alive with an urgent, unshakable tenderness, Julie Buntin's Marlena is an unforgettable look at the people who shape us beyond reason and the ways it might be possible to pull oneself back from the brink.
And That's all the books I acquired last week! Let me know if you've read any or if any of them are on your TBR! I'd love to hear your thoughts