WWW Wednesday is hosted by Sam @ Taking on a World of Worlds, be sure to check out her blog! To participate just answer these questions:
What are you currently reading?
What did you recently finish reading?
What do you think you'll read next?
Currently reading
When It's Real by Erin Watt
I received an arc of this via NetGalley. Erin Watt is the author of the Royals series. I have yet to read Paper Princess, but with what I've read so far of When It's Real I think I'm going to pick it up soon! So far this book is a cute, funny contemporary read and I'm really enjoying it! I started this yesterday and I'm planning on finishing it today or tomorrow, it's an incredibly quick read! My review should be up on Tuesday next week.
This Shattered World by Amie Kaufman and Meagan Spooner
This Shattered World is the companion book to These Broken Stars, you can read my review of that book here. I started This Shattered World yesterday I'm only around 30 pages in, so far it's quite interesting but it's a bit too early on to tell if I'm really going to enjoy it. I'm also planning on finishing this on this week. My review should be up sometime next week, so keep a look out for that!
Recently read
Noteworthy by Riley Redgate
I received an arc of this on NetGalley and I LOVED it! I finished this on Monday and rated it 4.5/5 stars! This book is essentially the movies She's The Man and Pitch Perfect combined. It's full of diversity and great representation and I had a blast reading it! My review for this one will be up this Saturday, this book has already been published so go ahead and read it, you won't regret it! Trust me.
Reading next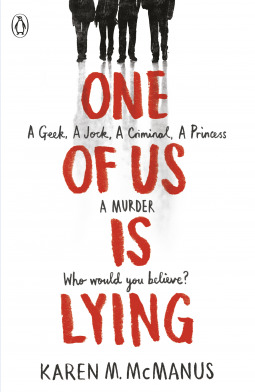 One Of Us Is Lying by Karen M. McManus
This is another book which I received an arc of via NetGalley, this one is being released on June 1st! One Of Us Is Lying has great reviews on Goodreads and I've heard some amazing things about it. It's a murder mystery surrounding a group of high school students with lots of diversity. It has been compared to the Breakfast club, so I'm super stoked to get into this one! My review for this should be up sometime late next week!
Have you read or heard of any of these books? If so please share your thoughts below (no spoilers please)! Let me know if you also participated in WWW Wednesday so I can check out your post! Hope everyone has a happy hump day 🙂