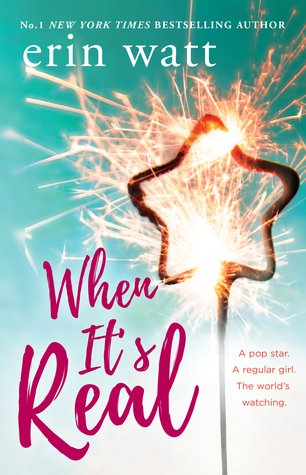 When It's Real by Erin Watt
Published by Harlequin on May 30 2017
Genres: Young adult, contemporary, romance
Pages: 416
Goodreads
From #1 New York Times bestselling author duo Erin Watt comes the addictive contemporary tale of a teen rock star in need of an image makeover and the teen girl hired to be his fake girlfriend.
Meet Oakley Ford-teen celebrity, renowned pop star, child of famous movie stars, hottie with millions of fangirls… and restless troublemaker. On the surface he has it all, but with his home life disintegrating, his music well suddenly running dry, and the tabloids having a field day over his outrageous exploits, Oakley's team decides it's time for an intervention. The result: an image overhaul, complete with a fake girlfriend meant to show the world he's settled down.
Enter seventeen-year-old Vaughn Bennett-devoted sister, part-time waitress, the definition of "normal." Under ordinary circumstances she'd never have taken this gig, but with her family strapped for cash, she doesn't have much of a choice. And for the money Oakley's team is paying her, she figures she can put up with outlandish Hollywood parties and a team of publicists watching her every move. So what if she thinks Oakley's a shallow, self-centered jerk? It's not like they're going to fall for each other in real life…right?
I was kindly sent an e-arc of this book via NetGalley in exchange for an honest review
REVIEW
When It's Real is an entertaining fast-paced read which unifies the lives of a full-blown celebrity and an imperfect 17-year-old girl. It's fast-paced and captures your attention from the beginning chapters, it won't be long before you find yourself at the end chapters wondering how time seemed to fly by!
The easy effortless writing of When It's Real complements the light-hearted story and lends to the fluffy, amusing feeling of the overall story. The characters were likeable and engaging to read about. Vaughan was humble and mature for her age, and it was admirable seeing her care for her two younger brothers as her parents had passed away. Oakley was a spontaneous spirit, and it was interesting to watch his growth throughout the novel. He wasn't exactly what you'd expect him to initially be, his outward persona is seemingly different to his inward personality. Through their slightyly forced relationship, Vaughan and Oakley uncovered alternate sides of themselves, and ultimately developed into more improved and genuine versions of themselves. Having the dual perspectives of Vaughan and Oakley gained us a better insight into both the characters, as we obtain access to their inner most thoughts and feelings.
The plot is compelling, with its doses of drama and celebrity affairs. Despite it being semi-predictable, for the most part it was an engrossing read and is a great, light contemporary to get lost in. With its happy ending, it's definitely a feel good upbeat book. The celebrity aspect added interest to the story, with insights into the secretive world of a celebrity superstar. I also enjoyed the social media aspect of the book and I think it's something our young generation today will have fun relating to. At the beginning of each chapter there are tweets, some of which are between Vaughan and Oakley and others which are from fans/supporters. I found this added uniqueness and a modern touch to the story.
Conclusively, When It's Real is an entertaining read focused around two unlikely characters. If you find the life of celebrities intriguing than I definitely would recommend this book! It's a fast, fun read that will leave you with a smile on your face by the end. I will be checking out Erin Watt's The Royals series, as from what I gained from When It's Real, I have a good feeling The Royals will be extremely entertaining addictive reads!
★★★
Have you read When It's Real or Erin Watt's The Royals series? Let me know your thoughts!