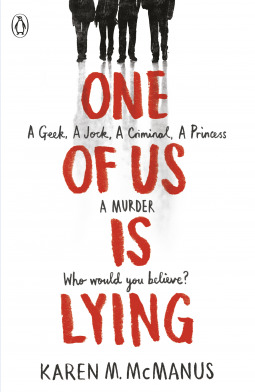 One Of Us is Lying by Karen M. McManus
Published by Penguin Random House on June 1 2017
Genres: Young adult, mystery, contemporary
Pages: 368
Goodreads
Yale hopeful Bronwyn has never publicly broken a rule.
Sports star Cooper only knows what he's doing in the baseball diamond.
Bad body Nate is one misstep away from a life of crime.
Prom queen Addy is holding together the cracks in her perfect life.
And outsider Simon, creator of the notorious gossip app at Bayview High, won't ever talk about any of them again.
He dies 24 hours before he could post their deepest secrets online. Investigators conclude it's no accident. All of them are suspects.
Everyone has secrets, right?
What really matters is how far you'll go to protect them.
I was kindly sent an e-arc of this book in exchange for an honest review
REVIEW
One Of Us is Lying is a riveting young-adult mystery novel with an intricate plotline, abstract characters and an unforgettable ending. With its electric narrative and writing style to complement, you can undoubtedly finish this book in one sitting — it's utterly unputdownable!
The story revolves around the four main characters, Bronwyn, Nate, Cooper and Addy who are the prime suspects of Simon's death. The book is told in the four perspectives of these characters, although this may seem over-abundant, I had no trouble following along, and was quick to distinguish each individual. As there are four points of interests, there is never a lack of events, and the story is pulled along quickly and sufficiently. I treasured the characters, they were unique with their own back story and respective concerns. There is a fair amount of diversity present with a gay character, a character's sister that previously had leukemia and a character that is half Filipino and half Irish. Along with this there are also various different family dynamics, such as a family where the mother is a drug addict and her whereabouts is unknown, and a family where the grandfather lives together in the household. Bronwyn was by far my favourite character, she was intelligent, insightful and resilient, and she was 100% committed in uncovering the perpetrator of the murder.
The plot was enthralling, as we're trying to decipher the truth behind Simon's death. There are numerous motives, and multiple suspects. With all the twists and turns, I ended up placing the blame on almost every character within the book, unsure of what to truly believe! I did eventually semi-guess who committed the crime, but despite this, discovering the culprit was still fascinating. They had planned out the whole event so meticulously, it was incredible! Being set in a high school you have to expect a great deal of drama, but it fuelled the tension and motives for murder, the whole situation was believable and not too far-fetched.
There were a couple romantic aspects within this book, but there is one prominent relationship that it at the forefront of the story. The romance wasn't incredibly cheesy or forced in any way, it felt genuine and natural. I love how the relationship wasn't purely physical and it developed through getting to know one another. The romance definitely didn't take away from the main aspect of the story, it instead complemented it, but I will say I wasn't thoroughly invested in it. I was more occupied by the murder mystery that I didn't think TOO much about the romance, but it was cute nonetheless.
Overall, One Of Us Is Lying is a sensational murder mystery novel. There are bountiful aspects the book surrounds, from the individual characters to the rage fuelled gossip and sweet romance. This story will take you on a roller-coaster ride with all its twists and turns and the ending will leave you astounded – an extraordinary debut!
★★★★1/2
Have you or heard of One Of Us Is Lying? Let me know!