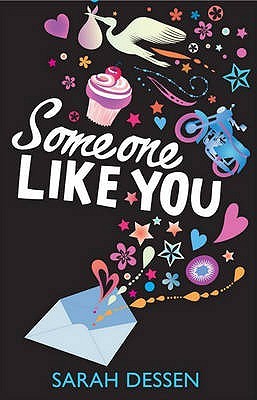 Someone Like You by Sarah Dessen
Published by Hodder Children's books on May 1 1998
Genres: young adult, romance, contemporary
Pages: 294
Goodreads
Halley has always followed in the wake of her best friend, Scarlett. But when Scarlett learns that her boyfriend has been killed in a motorcycle accident, and that she's carrying his baby, she's devastated. For the first time ever, Scarlett really needs Halley. Their friendship may bend under the weight, but it'll never break–because a true friendship is a promise you keep forever.
REVIEW
Someone Like You is a short contemporary read that sheds light on relevant topics that todays teens will be able to relate to.
This book focuses on two main characters, Halley and her best friend Scarlett. The protagonist Halley is slightly reserved and is more sensible than Scarlett, and she lives quietly by her best friend's side. Halley was a likeable character and throughout the story we watch her grow and develop on her own, independent from Scarlett. She soon discovers her true sense of self and I love how she begins to gain confidence and is more self-assured by the end of the novel. Halley and Scarlett's friendship was so precious, they were honest and genuine toward each other and always had one another's backs. They were each-others support systems and they each played a crucial part in each others lives.
Someone Like You spotlights numerous topics of importance such as death, relationships, sex, peer pressure, family and teenage pregnancy. I felt like these themes were talked about in a well-meaning manner and I felt that Halley's relationship with Macon was a good example of a toxic relationship. Although there was some well-done representation for these issues, I felt some things to be out-of-place. After Scarlett's boyfriend Michael dies in a motorcycle accident, Scarlett seems to only experience minor grief. And as the story progressed I almost forgot about the accident altogether as it was rarely brought up. Also we aren't given much insight into Cameron's character, I wanted more explanation into his relationship dynamic with Scarlett. It just seems like one day he's suddenly with Scarlett and is at her house everyday from then onward. However, for the short length of Someone Like You, I can't expect every detail to be fully fleshed out.
I found the book to have a slow start, but the pace builds up after the halfway mark. We learn about Michael's accident straight away, but afterwards it's mainly mundane events, Halley and Scarlett living their everyday lives until Scarlett finds out that she's pregnant. I can definitely say that I preferred the latter half of the novel, I ended up reading it in one sitting! The book gets crazy with it's events toward the end, which I found to be a great deal more exciting, making up for more of the mundane moments.
Ultimately, Someone Like You is a quick, easy contemporary read, that shares some important messages. It's a book that deals with everything life has to throw at you as a teen, from best friends to boyfriends and everything in between.
★★1/2
Have you read Someone Like You or any other Sarah Dessen books? Let me know!