Mailbox Monday is a meme created by Marcia of To Be Continued, you can find the dedicated blog here.
ARC's received
The Best Kind of Magic by Crystal Cestari
I've already read and reviewed this, you can read my review here.
Amber Sand is not a witch. The Sand family Wicca gene somehow leapfrogged over her. But she did get one highly specific magical talent: she can see true love. As a matchmaker, Amber's pretty far down the sorcery food chain (even birthday party magicians rank higher), but after five seconds of eye contact, she can envision anyone's soul mate.
Amber works at her mother's magic shop–Windy City Magic–in downtown Chicago, and she's confident she's seen every kind of happy ending there is: except for one–her own. (The Fates are tricky jerks that way.) So when Charlie Blitzman, the mayor's son and most-desired boy in school, comes to her for help finding his father's missing girlfriend, she's distressed to find herself falling for him. Because while she can't see her own match, she can see his–and it's not Amber. How can she, an honest peddler of true love, pursue a boy she knows full well isn't her match?
The Best Kind of Magic is set in urban Chicago and will appeal to readers who long for magic in the real world. With a sharp-witted and sassy heroine, a quirky cast of mystical beings, and a heady dose of adventure, this novel will have you laughing out loud and questioning your belief in happy endings.
eBooks
Once and For All by Sarah Dessen
As bubbly as champagne and delectable as wedding cake, Once and for All, Sarah Dessen's thirteenth novel, is set in the world of wedding planning, where crises are routine.
Louna, daughter of famed wedding planner Natalie Barrett, has seen every sort of wedding: on the beach, at historic mansions, in fancy hotels and clubs. Perhaps that's why she's cynical about happily-ever-after endings, especially since her own first love ended tragically. When Louna meets charming, happy-go-lucky serial dater Ambrose, she holds him at arm's length. But Ambrose isn't about to be discouraged, now that he's met the one girl he really wants.
Sarah Dessen's many, many fans will adore her latest, a richly satisfying, enormously entertaining story that has everything—humor, romance, and an ending both happy and imperfect, just like life itself.
Our Dark Duet by Victoria Schwab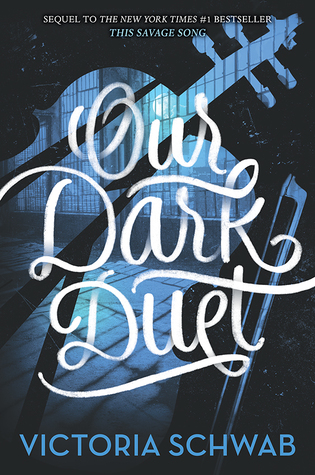 The world is breaking. And so are they.
Kate Harker isn't afraid of monsters. She hunts them. And she's good at it.
August Flynn once yearned to be human. He has a part to play. And he will play it, no matter the cost.
The war has begun.
The monsters are winning.
Kate will have to return to Verity. August will have to let her back in. And a new monster is waiting—one that feeds on chaos and brings out its victims' inner demons.
Which will be harder to conquer: the monsters they face, or the monsters within?
Avenged by Amy Tintera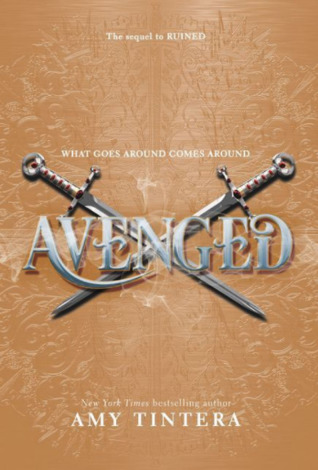 A war that will fuel her. A bond that will destroy her.
Emelina Flores has come home to Ruina. After rescuing her sister, Olivia, from imprisonment in rival kingdom Lera, Em and Olivia together vow to rebuild Ruina to its former glory.
But just because Em and Olivia are out of Lera doesn't mean they are safe. Their actions over the past year have had consequences, and they are now targets of retaliation. Olivia will destroy everyone who acts against Ruina. Em isn't as sure.
Ever since Em posed as Prince Casimir's betrothed in Lera, she's started to see another side to this war. Lera may have destroyed the Ruined for decades, but Em knows that Cas is different. And now that he's taken the throne, Em believes a truce is within reach. But Olivia suspects that Em's romantic feelings for Cas are just coloring her judgement.
Em is determined to bring peace to her home. But when winning the war could mean betraying her family, she faces an impossible choice between loyalty and love. Em must stay one step ahead of her enemies—and her blood—before she's the next victim in this battle for sovereignty.
Sever by Lauren DeStefano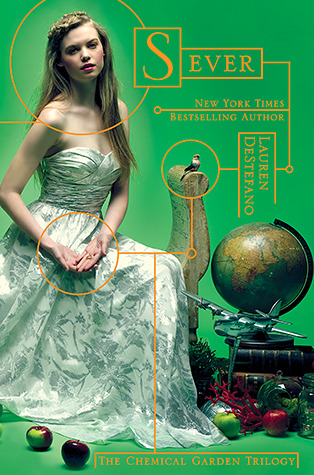 Time is running out for Rhine in this conclusion to the New York Times bestselling Chemical Garden Trilogy.
With the clock ticking until the virus takes its toll, Rhine is desperate for answers. After enduring Vaughn's worst, Rhine finds an unlikely ally in his brother, an eccentric inventor named Reed. She takes refuge in his dilapidated house, though the people she left behind refuse to stay in the past. While Gabriel haunts Rhine's memories, Cecily is determined to be at Rhine's side, even if Linden's feelings are still caught between them.
Meanwhile, Rowan's growing involvement in an underground resistance compels Rhine to reach him before he does something that cannot be undone. But what she discovers along the way has alarming implications for her future—and about the past her parents never had the chance to explain.
In this breathtaking conclusion to Lauren DeStefano's Chemical Garden trilogy, everything Rhine knows to be true will be irrevocably shattered.
Beautiful Oblivion by Jamie McGuire
Fiercely independent Camille "Cami" Camlin gladly moved on from her childhood before it was over. She has held down a job since before she could drive, and moved into her own apartment after her freshman year of college. Now tending bar at The Red Door, Cami doesn't have time for much else besides work and classes, until a trip to see her boyfriend is cancelled, leaving her with a first weekend off in almost a year.
Trenton Maddox was the king of Eastern State University, dating co-eds before he even graduated high school. His friends wanted to be him, and women wanted to tame him, but after a tragic accident turned his world upside down, Trenton leaves campus to come to grips with the crushing guilt.
Eighteen months later, Trenton is living at home with his widower father, and works full-time at a local tattoo parlor to help with the bills. Just when he thinks his life is returning to normal, he notices Cami sitting alone at a table at The Red.
As the baby sister of four rowdy brothers, Cami believes she'll have no problem keeping her new friendship with Trenton Maddox strictly platonic. But when a Maddox boy falls in love, he loves forever—even if she is the only reason their already broken family could fall apart.
Roar by Cora Carmack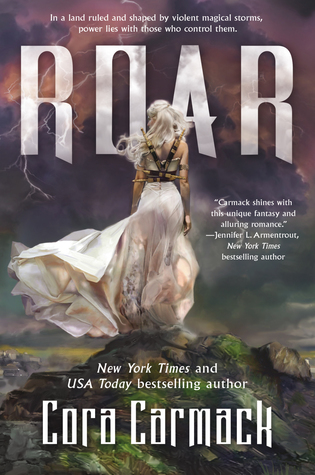 In a land ruled and shaped by violent magical storms, power lies with those who control them.
Aurora Pavan comes from one of the oldest Stormling families in existence. Long ago, the ungifted pledged fealty and service to her family in exchange for safe haven, and a kingdom was carved out from the wildlands and sustained by magic capable of repelling the world's deadliest foes. As the sole heir of Pavan, Aurora's been groomed to be the perfect queen. She's intelligent and brave and honorable. But she's yet to show any trace of the magic she'll need to protect her people.
To keep her secret and save her crown, Aurora's mother arranges for her to marry a dark and brooding Stormling prince from another kingdom. At first, the prince seems like the perfect solution to all her problems. He'll guarantee her spot as the next queen and be the champion her people need to remain safe. But the more secrets Aurora uncovers about him, the more a future with him frightens her. When she dons a disguise and sneaks out of the palace one night to spy on him, she stumbles upon a black market dealing in the very thing she lacks—storm magic. And the people selling it? They're not Stormlings. They're storm hunters.
Legend says that her ancestors first gained their magic by facing a storm and stealing part of its essence. And when a handsome young storm hunter reveals he was born without magic, but possesses it now, Aurora realizes there's a third option for her future besides ruin or marriage.
She might not have magic now, but she can steal it if she's brave enough.
Challenge a tempest. Survive it. And you become its master.
Want by Cindy Pon
Jason Zhou survives in a divided society where the elite use their wealth to buy longer lives. The rich wear special suits that protect them from the pollution and viruses that plague the city, while those without suffer illness and early deaths. Frustrated by his city's corruption and still grieving the loss of his mother, who died as a result of it, Zhou is determined to change things, no matter the cost.
With the help of his friends, Zhou infiltrates the lives of the wealthy in hopes of destroying the international Jin Corporation from within. Jin Corp not only manufactures the special suits the rich rely on, but they may also be manufacturing the pollution that makes them necessary.
Yet the deeper Zhou delves into this new world of excess and wealth, the more muddled his plans become. And against his better judgment, Zhou finds himself falling for Daiyu, the daughter of Jin Corp's CEO. Can Zhou save his city without compromising who he is or destroying his own heart?
Down Among the Sticks and Bones by Seanan McGuire
Twin sisters Jack and Jill were seventeen when they found their way home and were packed off to Eleanor West's Home for Wayward Children.
This is the story of what happened first…
Jacqueline was her mother's perfect daughter—polite and quiet, always dressed as a princess. If her mother was sometimes a little strict, it's because crafting the perfect daughter takes discipline.
Jillian was her father's perfect daughter—adventurous, thrill-seeking, and a bit of a tom-boy. He really would have preferred a son, but you work with what you've got.
They were five when they learned that grown-ups can't be trusted.
They were twelve when they walked down the impossible staircase and discovered that the pretense of love can never be enough to prepare you a life filled with magic in a land filled with mad scientists and death and choices.
Have you read any of these books? Let me know!