Ten Thousand Skies Above You by Claudia Gray
My review   ★★★★1/2
Ever since she used the Firebird, her parents' invention, to cross into alternate dimensions, Marguerite has caught the attention of enemies who will do anything to force her into helping them dominate the multiverse—even hurting the people she loves. She resists until her boyfriend, Paul, is attacked and his consciousness scattered across multiple dimensions.
Marguerite has no choice but to search for each splinter of Paul's soul. The hunt sends her racing through a war-torn San Francisco, the criminal underworld of New York City, and a glittering Paris where another Marguerite hides a shocking secret. Each world brings Marguerite one step closer to rescuing Paul. But with each trial she faces, she begins to question the destiny she thought they shared.
A Million Worlds With You by Claudia Gray
My review   ★★★★
A million universes. A million dangers. One destiny.
The fate of the multiverse rests in Marguerite Caine's hands. Marguerite has been at the center of a cross-dimensional feud since she first traveled to another universe using her parents' invention, the Firebird. Only now has she learned the true plans of the evil Triad Corporation—and that those plans could spell doom for dozens or hundreds of universes, each facing total annihilation.
Paul Markov has always been at Marguerite's side, but Triad's last attack has left him a changed man—angry and shadowed by tragedy. He struggles to overcome the damage done to him, but despite Marguerite's efforts to help, Paul may never be the same again.
So it's up to Marguerite alone to stop the destruction of the multiverse. Billions of lives are at stake. The risks have never been higher. And Triad has unleashed its ultimate weapon: another dimension's Marguerite—wicked, psychologically twisted, and always one step ahead.
In the conclusion to Claudia Gray's Firebird trilogy, fate and family will be questioned, loves will be won and lost, and the multiverse will be forever changed. It's a battle of the Marguerites…and only one can win.
Bridget Jones's Diary by Helen Fielding
My review  ★1/2
Meet Bridget Jones—a 30-something Singleton who is certain she would have all the answers if she could:
a. lose 7 pounds
b. stop smoking
c. develop Inner Poise
"123 lbs. (how is it possible to put on 4 pounds in the middle of the night? Could flesh have somehow solidified becoming denser and heavier? Repulsive, horrifying notion), alcohol units 4 (excellent), cigarettes 21 (poor but will give up totally tomorrow), number of correct lottery numbers 2 (better, but nevertheless useless)…"
Bridget Jones' Diary is the devastatingly self-aware, laugh-out-loud daily chronicle of Bridget's permanent, doomed quest for self-improvement — a year in which she resolves to: reduce the circumference of each thigh by 1.5 inches, visit the gym three times a week not just to buy a sandwich, form a functional relationship with a responsible adult, and learn to program the VCR.
Over the course of the year, Bridget loses a total of 72 pounds but gains a total of 74. She remains, however, optimistic. Through it all, Bridget will have you helpless with laughter, and — like millions of readers the world round — you'll find yourself shouting, "Bridget Jones is me!"
Daughter of the Burning City by Amanda Foody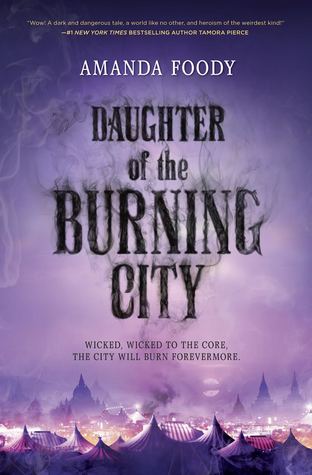 My review  ★★★
A darkly irresistible new fantasy set in the infamous Gomorrah Festival, a traveling carnival of debauchery that caters to the strangest of dreams and desires.
Sixteen-year-old Sorina has spent most of her life within the smoldering borders of the Gomorrah Festival. Yet even among the many unusual members of the traveling circus-city, Sorina stands apart as the only illusion-worker born in hundreds of years. This rare talent allows her to create illusions that others can see, feel and touch, with personalities all their own. Her creations are her family, and together they make up the cast of the Festival's Freak Show.
But no matter how lifelike they may seem, her illusions are still just that—illusions, and not truly real. Or so she always believed…until one of them is murdered.
Desperate to protect her family, Sorina must track down the culprit and determine how they killed a person who doesn't actually exist. Her search for answers leads her to the self-proclaimed gossip-worker Luca, and their investigation sends them through a haze of political turmoil and forbidden romance, and into the most sinister corners of the Festival. But as the killer continues murdering Sorina's illusions one by one, she must unravel the horrifying truth before all of her loved ones disappear.
Purity by Jackson Pearce
A novel about love, loss, and sex — but not necessarily in that order.
Before her mother died, Shelby promised three things: to listen to her father, to love as much as possible, and to live without restraint. Those Promises become harder to keep when Shelby's father joins the planning committee for the Princess Ball, an annual dance that ends with a ceremonial vow to live pure lives — in other words, no "bad behavior," no breaking the rules, and definitely no sex.
Torn between Promises One and Three, Shelby makes a decision — to exploit a loophole and lose her virginity before taking the vow. But somewhere between failed hookup attempts and helping her dad plan the ball, Shelby starts to understand what her mother really meant, what her father really needs, and who really has the right to her purity.
Nick & Norah's Infinite Playlist by Rachel Cohn and David Levithan
My review    ★1/2
It all starts when Nick asks Norah to be his girlfriend for five minutes. He only needs five minutes to avoid his ex-girlfriend, who's just walked in to his band's show. With a new guy. And then, with one kiss, Nick and Norah are off on an adventure set against the backdrop of New York City—and smack in the middle of all the joy, anxiety, confusion, and excitement of a first date.
This he said/she said romance told by YA stars Rachel Cohn and David Levithan is a sexy, funny roller coaster of a story about one date over one very long night, with two teenagers, both recovering from broken hearts, who are just trying to figure out who they want to be—and where the next great band is playing.
Told in alternating chapters, teeming with music references, humor, angst, and endearing side characters, this is a love story you'll wish were your very own. Working together for the first time, Rachel Cohn and David Levithan have combined forces to create a book that is sure to grab readers of all ages and never let them go.
A Work in Progress by Connor Franta
   ★★★
In this intimate memoir of life beyond the camera, Connor Franta shares the lessons he has learned on his journey from small-town boy to Internet sensation so far.
Here, Connor offers a look at his Midwestern upbringing as one of four children in the home and one of five in the classroom; his struggles with identity, body image, and sexuality in his teen years; and his decision to finally pursue his creative and artistic passions in his early twenties, setting up his thrilling career as a YouTube personality, philanthropist, entrepreneur, and tastemaker.
Exploring his past with insight and humor, his present with humility, and his future with hope, Connor reveals his private struggles while providing heartfelt words of wisdom for young adults. His words will resonate with anyone coming of age in the digital era, but at the core is a timeless message for people of all ages: don't be afraid to be yourself and to go after what you truly want.
This full-color collection includes photography and childhood clippings provided by Connor and is a must-have for anyone inspired by his journey.
Mind Games by Kiersten White
★★
Fia and Annie are as close as two sisters can be. They look out for each other. Protect each other. And most importantly, they keep each other's secrets, even the most dangerous ones: Annie is blind, but can see visions of the future; Fia was born with flaw
less intuition—her first impulse is always exactly right.
When the sisters are offered a place at an elite boarding school, Fia realizes that something is wrong . . . but she doesn't grasp just how wrong. The Keane Institute is no ordinary school, and Fia is soon used for everything from picking stocks to planting bombs. If she tries to refuse, they threaten her with Annie's life.
Now Fia's falling in love with a boy who has dark secrets of his own. And with his help, she's ready to fight back. They stole her past. They control her present. But she won't let them take her future.
The Lover's Dictionary by David Levithan
★★★
basis, n.
There has to be a moment at the beginning when you wonder whether you're in love with the person or in love with the feeling of love itself.
If the moment doesn't pass, that's it―you're done. And if the moment does pass, it never goes that far. It stands in the distance, ready for whenever you want it back. Sometimes it's even there when you thought you were searching for something else, like an escape route, or your lover's face.
How does one talk about love? Do we even have the right words to describe something that can be both utterly mundane and completely transcendent, pulling us out of our everyday lives and making us feel a part of something greater than ourselves? Taking a unique approach to this problem, the nameless narrator of David Levithan's The Lover's Dictionary has constructed the story of his relationship as a dictionary. Through these short entries, he provides an intimate window into the great events and quotidian trifles of being within a couple, giving
How They Met, and Other Stories by David Levithan
Just in time for Valentine's Day comes a confection from David Levithan that is sure to have fans of Boy Meets Boy eager to devour it. Here are 18 stories, all about love, all kinds of love. From the aching for the one you pine for, to standing up and speaking up for the one you love, to pure joy and happiness, these love stories run the gamut of that emotion that at some point has turned every one of us inside out and upside down.
What is love? With this original story collection, David Levithan proves that love is a many splendored thing, a varied, complicated, addictive, wonderful thing.