Sorry for being absent here on my blog! I've been travelling all week, I had three back to back holidays, from a flight interstate to a trip to the snow and a weekend road trip. But now I'm back and will be back on my new blogging schedule. While I was away I found a lot of cheap books online, so I ordered them and it was like Christmas when I came back home!
Mailbox Monday is a meme created by Marcia of To Be Continued, you can find the dedicated blog here.
physical books
Red Hill by Jamie McGuire
When the world ends, can love survive?
For Scarlet, raising her two daughters alone makes fighting for tomorrow an everyday battle. Nathan has a wife, but can't remember what it's like to be in love; only his young daughter Zoe makes coming home worthwhile. Miranda's biggest concern is whether her new VW Bug is big enough to carry her sister and their boyfriends on a weekend escape from college finals.
When reports of a widespread, deadly "outbreak" begin to surface, these ordinary people face extraordinary circumstances and suddenly their fates are intertwined. Recognizing they can't outrun the danger, Scarlet, Nathan, and Miranda desperately seek shelter at the same secluded ranch, Red Hill. Emotions run high while old and new relationships are tested in the face of a terrifying enemy—an enemy who no longer remembers what it's like to be human.
Set against the backdrop of a brilliantly realized apocalyptic world, love somehow finds a way to survive. But what happens when the one you'd die for becomes the one who could destroy you?
Red Hill grabs you from page one and doesn't let go until its stunning conclusion. This is #1 New York Times bestselling author Jamie McGuire at her unforgettable best.
Anna Dressed un Blood by Kendare Blake
Cas Lowood has inherited an unusual vocation: He kills the dead.
So did his father before him, until he was gruesomely murdered by a ghost he sought to kill. Now, armed with his father's mysterious and deadly athame, Cas travels the country with his kitchen-witch mother and their spirit-sniffing cat. They follow legends and local lore, destroy the murderous dead, and keep pesky things like the future and friends at bay.
Searching for a ghost the locals call Anna Dressed in Blood, Cas expects the usual: track, hunt, kill. What he finds instead is a girl entangled in curses and rage, a ghost like he's never faced before. She still wears the dress she wore on the day of her brutal murder in 1958: once white, now stained red and dripping with blood. Since her death, Anna has killed any and every person who has dared to step into the deserted Victorian she used to call home.
Yet she spares Cas's life.
Wildlife by Fiona Wood
During a semester in the wilderness, sixteen-year-old Sib expects the tough outdoor education program and the horrors of dorm life, but friendship drama and an unexpected romance with popular Ben Capaldi? That will take some navigating.
New girl Lou has zero interest in fitting in, or joining in. Still reeling from a loss that occurred almost a year ago, she just wants to be left alone. But as she witnesses a betrayal unfolding around Sib and her best friend Holly, Lou can't help but be drawn back into the land of the living.
Fans of Melina Marchetta, Rainbow Rowell, and E. Lockhart will adore this endearing and poignant story of first love, true friendship, and going a little bit wild.
This is What Happy Looks Like by Jennifer E. Smith
When a young movie star accidentally sends a small-town girl an email about his pet pig, the two teens strike up a witty correspondence during which they share their views on everything without revealing their actual identities, an episode that causes a relationship to develop which ultimately transforms when the actor chooses the girl's hometown for the setting of his latest film. 75,000 first printing.
Entice by Jessica Shirvington
CONSEQUENCE HAUNTS EVERY CHOICE
Violet Eden is Grigori – part angel, part human. Her destiny is to protect humans from the vengence of exiled angels.
Knowing who to trust is key but, when Grigori reinforcements arrive, it becomes clear everyone is hiding something. Even Lincoln. The only thing Violet does know: Phoenix's hold over her is more dangerous than ever.
The race to find the one thing that could tilt the balance of power brings them all to the sacred mountains of Jordan, where Violet's power will be pushed to the extreme. And the ultimate betrayal exposed.
Emblaze by Jessica Shirvington
Once again Violet Eden faces an impossible choice … and the consequences are unimaginable.
Violet has come to terms with the fact that being part angel, part human, means her life will never be as it was.
Now Violet has something Phoenix – the exiled angel who betrayed her – will do anything for, and she has no intention of letting it fall into his hands. The only problem is that he has something she needs too.
Not afraid to raise the stakes, Phoenix seemingly holds all the power, always one step ahead. And when he puts the final pieces of the prophecy together, it doesn't take him long to realise exactly who he needs in order to open the gates of Hell.
With the help of surprising new allies, ancient prophecies are deciphered, a destination set and, after a shattering confrontation with her father, Violet leaves for the islands of Greece without knowing if she will have a home to return to…
Endless by Jessica Shirvington
Love will kill us all.
Angels are real. They aren't always kind. Violet Eden is certain of all this because she is Grigori – part angel, part human. She has felt the influence of both light and dark.
When Hell unleashes its worst, Violet must embrace every facet of her angel self to save the people she cares about and the world as she knows it. But death is not the worst thing that Violet will face. For her, the endless question 'Can love conquer all?' will finally be answered.
Empower by Jessica Shirvington
It has been two years since Violet Eden walked away from the city, her friends, her future and – most importantly – her soulmate, Lincoln. Part angel, part human, Violet is determined to stand by the promises she made to save the one she loves.
Living in the perpetual coldness of a broken soul she survives day to day as a Rogue Grigori in London.
But when an unexpected visitor shows up at her door, the news he bears about someone she swore to protect leaves Violet with no choice.
Even worse, she fears that this might all lead back to the night she tries hardest to forget. And what was taken without her permission.
Violet is going back to New York … and she knows exactly who is going to be there.
With Phoenix in her dreams and Lincoln in her heart she knows it is only a matter of time before the final choice must be made.
Of Poseidon by Anna Banks
Galen is strong, protective and gorgeous, with striking violet eyes and a body to make you shiver – and that's just when he's in human form. He's from the House of Triton, god of the sea, and he's searching for a girl with the gift of Poseidon to save his brother from marrying a fraud. Emma is a human. Or so she thinks. When Emma meets Galen on the beach, they both sense a sizzling chemistry. But can Galen convince her that she holds the key to his kingdom – without letting on that he's falling for her?
The Masque of the Red Death
Everything is in ruins.
A devastating plague has decimated the population, and those who are left live in fear of catching it as the city crumbles around them.
So what does Araby Worth have to live for?
Nights in the Debauchery Club, beautiful dresses, glittery makeup . . . and tantalizing ways to forget it all.
But in the depths of the club—in the depths of her own despair—Araby will find more than oblivion. She will find Will, the terribly handsome proprietor of the club, and Elliott, the wickedly smart aristocrat. Neither is what he seems. Both have secrets. Everyone does.
And Araby may find not just something to live for, but something to fight for—no matter what it costs her.
The Lost Prince by Julie Kagawa
Don't look at Them.
Never let Them know
you can see Them.
That is Ethan Chase's unbreakable rule. Until the fey he avoids at all costs—including his reputation—begin to disappear, and Ethan is attacked. Now he must change the rules to protect his family. To save a girl he never thought he'd dare to fall for.
Ethan thought he had protected himself from his older sister's world—the land of Faery. His previous time in the Iron Realm left him with nothing but fear and disgust for the world Meghan Chase has made her home, a land of myth and talking cats, of magic and seductive enemies. But when destiny comes for Ethan, there is no escape from a danger long, long forgotten.
My name is Ethan Chase.
And I may not live to see my
eighteenth birthday.
A Work In Progress by Connor Franta
In this intimate memoir of life beyond the camera, Connor Franta shares the lessons he has learned on his journey from small-town boy to Internet sensation so far.
Here, Connor offers a look at his Midwestern upbringing as one of four children in the home and one of five in the classroom; his struggles with identity, body image, and sexuality in his teen years; and his decision to finally pursue his creative and artistic passions in his early twenties, setting up his thrilling career as a YouTube personality, philanthropist, entrepreneur, and tastemaker.
Exploring his past with insight and humor, his present with humility, and his future with hope, Connor reveals his private struggles while providing heartfelt words of wisdom for young adults. His words will resonate with anyone coming of age in the digital era, but at the core is a timeless message for people of all ages: don't be afraid to be yourself and to go after what you truly want.
This full-color collection includes photography and childhood clippings provided by Connor and is a must-have for anyone inspired by his journey.
Bridget Jones's Diary by Helen Fielding
Meet Bridget Jones—a 30-something Singleton who is certain she would have all the answers if she could:
a. lose 7 pounds
b. stop smoking
c. develop Inner Poise
"123 lbs. (how is it possible to put on 4 pounds in the middle of the night? Could flesh have somehow solidified becoming denser and heavier? Repulsive, horrifying notion), alcohol units 4 (excellent), cigarettes 21 (poor but will give up totally tomorrow), number of correct lottery numbers 2 (better, but nevertheless useless)…"
Bridget Jones's Diary is the devastatingly self-aware, laugh-out-loud daily chronicle of Bridget's permanent, doomed quest for self-improvement — a year in which she resolves to: reduce the circumference of each thigh by 1.5 inches, visit the gym three times a week not just to buy a sandwich, form a functional relationship with a responsible adult, and learn to program the VCR.
Why We Broke Up by Daniel Handler
Sixteen-year-old Min Green writes a letter to Ed Slaterton in which she breaks up with him, documenting their relationship and how items in the accompanying box, from bottle caps to a cookbook, foretell the end.
Hopeless by Colleen Hoover
Sometimes discovering the truth can leave you more hopeless than believing the lies…
That's what seventeen-year-old Sky realizes after she meets Dean Holder. A guy with a reputation that rivals her own and an uncanny ability to invoke feelings in her she's never had before. He terrifies her and captivates her all in the span of just one encounter, and something about the way he makes her feel sparks buried memories from a past that she wishes could just stay buried.
Sky struggles to keep him at a distance knowing he's nothing but trouble, but Holder insists on learning everything about her. After finally caving to his unwavering pursuit, Sky soon finds that Holder isn't at all who he's been claiming to be. When the secrets he's been keeping are finally revealed, every single facet of Sky's life will change forever.
Hate List by Jennifer Brown
Five months ago, Valerie Leftman's boyfriend, Nick, opened fire on their school cafeteria. Shot trying to stop him, Valerie inadvertently saved the life of a classmate, but was implicated in the shootings because of the list she helped create. A list of people and things she and Nick hated. The list he used to pick his targets.
Now, after a summer of seclusion, Val is forced to confront her guilt as she returns to school to complete her senior year. Haunted by the memory of the boyfriend she still loves and navigating rocky relationships with her family, former friends and the girl whose life she saved, Val must come to grips with the tragedy that took place and her role in it, in order to make amends and move on with her life.
The Impossible Knife of Memory by Laurie Halse Anderson
For the past five years, Hayley Kincain and her father, Andy, have been on the road, never staying long in one place as he struggles to escape the demons that have tortured him since his return from Iraq. Now they are back in the town where he grew up so Hayley can attend school. Perhaps, for the first time, Hayley can have a normal life, put aside her own painful memories, even have a relationship with Finn, the hot guy who obviously likes her but is hiding secrets of his own.
Will being back home help Andy's PTSD, or will his terrible memories drag him to the edge of hell, and drugs push him over? The Impossible Knife of Memory is Laurie Halse Anderson at her finest: compelling, surprising, and impossible to put down.
Extremely Loud and Incredibly Close by Jonathan Safran Foer
In a vase in a closet, a couple of years after his father died in 9/11, nine-year-old Oskar discovers a key…The key belonged to his father, he's sure of that. But which of New York's 162 million locks does it open? So begins a quest that takes Oskar – inventor, letter-writer and amateur detective – across New York's five boroughs and into the jumbled lives of friends, relatives and complete strangers. He gets heavy boots, he gives himself little bruises and he inches ever nearer to the heart of a family mystery that stretches back fifty years. But will it take him any closer to, or even further from, his lost father?
The DUFF by Cody Keplinger
Seventeen-year-old Bianca Piper is cynical and loyal, and she doesn't think she's the prettiest of her friends by a long shot. She's also way too smart to fall for the charms of man-slut and slimy school hottie Wesley Rush. In fact, Bianca hates him. And when he nicknames her "Duffy," she throws her Coke in his face.
But things aren't so great at home right now. Desperate for a distraction, Bianca ends up kissing Wesley. And likes it. Eager for escape, she throws herself into a closeted enemies-with-benefits relationship with Wesley.
Until it all goes horribly awry. It turns out that Wesley isn't such a bad listener, and his life is pretty screwed up, too. Suddenly Bianca realizes with absolute horror that she's falling for the guy she thought she hated more than anyone.
Perfect Chemistry by Simone Elkeles
When Brittany Ellis walks into chemistry class on the first day of senior year, she has no clue that her carefully created "perfect" life is about to unravel before her eyes. She's forced to be lab partners with Alex Fuentes, a gang member from the other side of town, and he is about to threaten everything she's worked so hard for—her flawless reputation, her relationship with her boyfriend, and the secret that her home life is anything but perfect.
Alex is a bad boy and he knows it. So when he makes a bet with his friends to lure Brittany into his life, he thinks nothing of it. But soon Alex realizes Brittany is a real person with real problems, and suddenly the bet he made in arrogance turns into something much more. In a passionate story about looking beneath the surface, Simone Elkeles breaks through the stereotypes and barriers that threaten to keep Brittany and Alex apart.
The Geography of You and Me by Jennifer E. Smith
Lucy lives on the twenty-fourth floor. Owen lives in the basement. It's fitting, then, that they meet in the middle — stuck between two floors of a New York City apartment building, on an elevator rendered useless by a citywide blackout. After they're rescued, Lucy and Owen spend the night wandering the darkened streets and marveling at the rare appearance of stars above Manhattan. But once the power is back, so is reality. Lucy soon moves abroad with her parents, while Owen heads out west with his father.
The brief time they spend together leaves a mark. And as their lives take them to Edinburgh and to San Francisco, to Prague and to Portland, Lucy and Owen stay in touch through postcards, occasional e-mails, and phone calls. But can they — despite the odds — find a way to reunite?
Smartly observed and wonderfully romantic, Jennifer E. Smith's new novel shows that the center of the world isn't necessarily a place. Sometimes, it can be a person.
The Statistical Probability of Love at First Sight by Jennifer E. Smith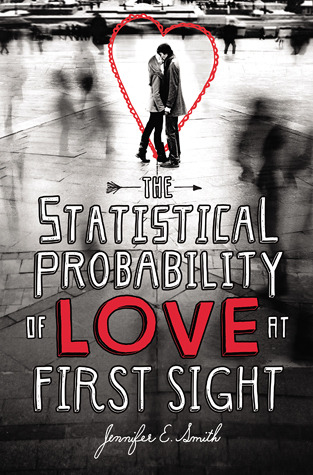 Who would have guessed that four minutes could change everything?
Today should be one of the worst days of seventeen-year-old Hadley Sullivan's life. Having missed her flight, she's stuck at JFK airport and late to her father's second wedding, which is taking place in London and involves a soon-to-be stepmother Hadley's never even met. Then she meets the perfect boy in the airport's cramped waiting area. His name is Oliver, he's British, and he's sitting in her row.
A long night on the plane passes in the blink of an eye, and Hadley and Oliver lose track of each other in the airport chaos upon arrival. Can fate intervene to bring them together once more?
Quirks of timing play out in this romantic and cinematic novel about family connections, second chances, and first loves. Set over a twenty-four-hour-period, Hadley and Oliver's story will make you believe that true love finds you when you're least expecting it.
ebooks
Now I Rise by Keirsten White
Lada Dracul has no allies. No throne. All she has is what she's always had: herself. After failing to secure the Wallachian throne, Lada is out to punish anyone who dares to cross her blood-strewn path. Filled with a white-hot rage, she storms the countryside with her men, accompanied by her childhood friend Bogdan, terrorizing the land. But brute force isn't getting Lada what she wants. And thinking of Mehmed brings little comfort to her thorny heart. There's no time to wonder whether he still thinks about her, even loves her. She left him before he could leave her.
What Lada needs is her younger brother Radu's subtlety and skill. But Mehmed has sent him to Constantinople—and it's no diplomatic mission. Mehmed wants control of the city, and Radu has earned an unwanted place as a double-crossing spy behind enemy lines. Radu longs for his sister's fierce confidence—but for the first time in his life, he rejects her unexpected plea for help. Torn between loyalties to faith, to the Ottomans, and to Mehmed, he knows he owes Lada nothing. If she dies, he could never forgive himself—but if he fails in Constantinople, will Mehmed ever forgive him?
As nations fall around them, the Dracul siblings must decide: what will they sacrifice to fulfill their destinies? Empires will topple, thrones will be won . . . and souls will be lost.
A Conjuring of Light by V. E Schwab
Witness the fate of beloved heroes – and enemies.
THE BALANCE OF POWER HAS FINALLY TIPPED…
The precarious equilibrium among four Londons has reached its breaking point. Once brimming with the red vivacity of magic, darkness casts a shadow over the Maresh Empire, leaving a space for another London to rise.
WHO WILL CRUMBLE?
Kell – once assumed to be the last surviving Antari – begins to waver under the pressure of competing loyalties. And in the wake of tragedy, can Arnes survive?
WHO WILL RISE?
Lila Bard, once a commonplace – but never common – thief, has survived and flourished through a series of magical trials. But now she must learn to control the magic, before it bleeds her dry. Meanwhile, the disgraced Captain Alucard Emery of the Night Spire collects his crew, attempting a race against time to acquire the impossible.
WHO WILL TAKE CONTROL?
And an ancient enemy returns to claim a crown while a fallen hero tries to save a world in decay.