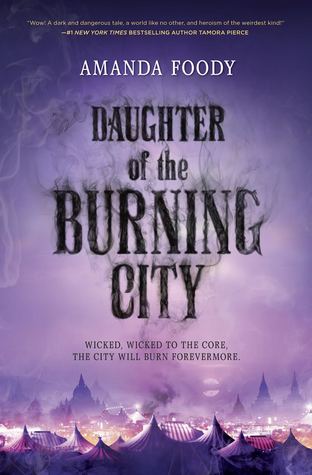 Daughter of the Burning City by Amanda Foody
Published by Harlequin on July 24, 2017
Genres: Fantasy, young adult
Pages: 384
Goodreads
A darkly irresistible new fantasy set in the infamous Gomorrah Festival, a traveling carnival of debauchery that caters to the strangest of dreams and desires.
Sixteen-year-old Sorina has spent most of her life within the smoldering borders of the Gomorrah Festival. Yet even among the many unusual members of the traveling circus-city, Sorina stands apart as the only illusion-worker born in hundreds of years. This rare talent allows her to create illusions that others can see, feel and touch, with personalities all their own. Her creations are her family, and together they make up the cast of the Festival's Freak Show.
But no matter how lifelike they may seem, her illusions are still just that—illusions, and not truly real. Or so she always believed…until one of them is murdered.
Desperate to protect her family, Sorina must track down the culprit and determine how they killed a person who doesn't actually exist. Her search for answers leads her to the self-proclaimed gossip-worker Luca, and their investigation sends them through a haze of political turmoil and forbidden romance, and into the most sinister corners of the Festival. But as the killer continues murdering Sorina's illusions one by one, she must unravel the horrifying truth before all of her loved ones disappear.
I was kindly sent an eARC of this book in exchange for an honest review
REVIEW
Daughter of the Burning City is an alluring mystery set in the heart of an ever-burning travelling festival. Complete with distinctive one-of-a-kind characters and plot twists that will hit you when you're least suspecting, this book will take you on a trip through the unimaginable.
The setting of the Gomorrah festival was both enticing and devilish, with its bewitching performance acts set amongst the provocative sex workers and corrupt criminals. This unique setting was one of the books strong points, conjuring an entrancing atmosphere to go alongside the murder mystery. However, going into this book I was anticipating a more wicked and sinister carnival feel to what this book ended up providing.
The wacky but wonderful characters that we are introduced to in Daughter of the Burning City are remarkably bizarre, each with their distinctive abilities and quirks. There were charm-workers, fortune-workers, poison-works and an entire variety of different magical abilities. The protagonist, Sorina, is exceptionally unique with her ability to create physical illusions, she also lacked eyes though she could see perfectly fine. The uniqueness of the characters was an aspect I relished, it was continually fascinating meeting new people with extraordinary capabilities. Sorina was a loveable character, she cared about her family of illusions so profoundly, when they started being murdered one by one she was determined to seek out the perpetrator. Although she is sixteen, Sorina was very mature and acted like a mother to her illusions, despite some of them being older than her. The characters are also diverse, with Sorina being attracted to both women and men and Nicoleta preferring women.
Luca was a charming character, and he definitely won me over with his confidence and charisma. He was an intriguing character, as it seemed there was constantly more to discover about him which supplied an air of mystery to him. Sorina and Luca's relationship was sweet and endearing, it wasn't merely physical attraction but their relationship was formed from getting to appreciate each other on a deeper level. Luca even says "I guess I don't just look at someone and think…attraction […] it takes, I don't know… I have to care about the person first."
Being a murder mystery, the plot was suspenseful with two significant plot twists toward the end. We are constantly trying to unravel the mystery at hand, questioning everything. How can the illusions be killed? Who killed the illusions? Are the murders aimed to be a personal attack against Sorina? I had a few theories as to what I thought was occurring, but I was nowhere close to the truth! So when the plot twists were revealed I was completely shocked!
Amanda Foody's writing complemented the story well, it didn't interfere with the narrative, nor did it take away from it. I didn't really notice anything significant regarding the writing because I felt that I blended seamlessly with the story.
Conclusively, Daughter of the Burning City is a solid debut set in a mystical festival consisting of striking characters and an astonishing mystery that is gradually unravelled piece by piece. Although I could say I was wanting a little bit more from this book, just a touch more wicked and whimsical, I still recommend it!
★★★