Mailbox Monday is a meme created by Marcia of To Be Continued, you can find the dedicated blog here.
So again last week I found a whole bunch of books for really cheap so I couldn't resist buying them!
Physical Books
The Bane Chronicles by Cassandra Clare, Sarah rees Brennan and Maureen Johnson
Fans of The Mortal Instruments and The Infernal Devices can get to know warlock Magnus Bane like never before in this collection of New York Times bestselling tales, in print for the first time with an exclusive new story and illustrated material.
This collection of eleven short stories illuminates the life of the enigmatic Magnus Bane, whose alluring personality, flamboyant style, and sharp wit populate the pages of the #1 New York Times bestselling series, The Mortal Instruments and The Infernal Devices.
Originally released one-by-one as e-only short stories by Cassandra Clare, Maureen Johnson, and Sarah Rees Brennan, this compilation presents all ten together in print for the first time and includes a never-before-seen eleventh tale, as well as new illustrated material.
Inside Out by Maria V. Synder
Keep Your Head Down.
Don't Get Noticed.
Or Else.
I'm Trella. I'm a scrub. A nobody. One of thousands who work the lower levels, keeping Inside clean for the Uppers. I've got one friend, do my job and try to avoid the Pop Cops. So what if I occasionally use the pipes to sneak around the Upper levels? The only neck at risk is my own…until I accidentally start a rebellion and become the go-to girl to lead a revolution.
Wolfsbane by Andrea Cremer
When Calla Tor wakes up in the lair of the Searchers, she's certain her days are numbered. Then the Searchers make her an offer, one that gives her the chance to destroy her former masters and save the boy she left behind. Calla must decide which battles are worth fighting and how many trials love can endure.
The Lost Prince by Julie Kagawa
Don't look at Them.
Never let Them know
you can see Them.
That is Ethan Chase's unbreakable rule. Until the fey he avoids at all costs—including his reputation—begin to disappear, and Ethan is attacked. Now he must change the rules to protect his family. To save a girl he never thought he'd dare to fall for.
Ethan thought he had protected himself from his older sister's world—the land of Faery. His previous time in the Iron Realm left him with nothing but fear and disgust for the world Meghan Chase has made her home, a land of myth and talking cats, of magic and seductive enemies. But when destiny comes for Ethan, there is no escape from a danger long, long forgotten.
My name is Ethan Chase.
And I may not live to see my
eighteenth birthday.
Glass Sword by Victoria Aveyard
If there's one thing Mare Barrow knows, it's that she's different.
Mare Barrow's blood is red—the color of common folk—but her Silver ability, the power to control lightning, has turned her into a weapon that the royal court tries to control.
The crown calls her an impossibility, a fake, but as she makes her escape from Maven, the prince—the friend—who betrayed her, Mare uncovers something startling: she is not the only one of her kind.
Pursued by Maven, now a vindictive king, Mare sets out to find and recruit other Red-and-Silver fighters to join in the struggle against her oppressors.
But Mare finds herself on a deadly path, at risk of becoming exactly the kind of monster she is trying to defeat.
Will she shatter under the weight of the lives that are the cost of rebellion? Or have treachery and betrayal hardened her forever?
The electrifying next installment in the Red Queen series escalates the struggle between the growing rebel army and the blood-segregated world they've always known—and pits Mare against the darkness that has grown in her soul.
Froi of the Exiles by Melina Marchetta
Blood sings to blood, Froi . . .
Those born last will make the first . . .
For Charyn will be barren no more. 
Three years after the curse on Lumatere was lifted, Froi has found his home… Or so he believes…
Fiercely loyal to the Queen and Finnikin, Froi has been trained roughly and lovingly by the Guard sworn to protect the royal family, and has learned to control his quick temper. But when he is sent on a secretive mission to the kingdom of Charyn, nothing could have prepared him for what he finds. Here he encounters a damaged people who are not who they seem, and must unravel both the dark bonds of kinship and the mysteries of a half-mad Princess.
And in this barren and mysterious place, he will discover that there is a song sleeping in his blood, and though Froi would rather not, the time has come to listen.
Gripping and intense, complex and richly imagined, Froi of the Exiles is a dazzling sequel to Finnikin of the Rock, from the internationally best-selling and multi-award-winning author of Looking for Alibrandi, Saving Francesca, On the Jellicoe Road and The Piper's Son.
Truly Madly Guilty by Liane Moriarty
If only they'd said no…
What if they hadn't gone? That's the question Clementine can't stop asking herself. It was just an ordinary backyard barbeque on a Sunday afternoon. They didn't know their hosts that well. They were friends of friends. They could so easily have said no.
But she and her husband Sam said yes, and now they can never change what they did and didn't do that beautiful winter's day.
Six responsible adults. Three cute kids. One yapping dog. It's a normal weekend in the suburbs. What could possibly go wrong?
Once again Liane Moriarty uses her unique, razor-sharp observational skills to sift through the emerging fault lines of seemingly happy families.
It was just an ordinary Sunday afternoon…
The Bronze Horseman by Paullina Simons
A magnificent epic of love, war and Russia from the international bestselling author of TULLY and ROAD TO PARADISE Leningrad 1941: the white nights of summer illuminate a city of fallen grandeur whose palaces and avenues speak of a different age, when Leningrad was known as St Petersburg. Two sisters, Tatiana and Dasha, share the same bed, living in one room with their brother and parents. The routine of their hard impoverished life is shattered on 22 June 1941 when Hitler invades Russia. For the Metanov family, for Leningrad and particularly for Tatiana, life will never be the same again. On that fateful day, Tatiana meets a brash young man named Alexander. The family suffers as Hitler's army advances on Leningrad, and the Russian winter closes in. With bombs falling and the city under siege, Tatiana and Alexander are drawn inexorably to each other, but theirs is a love that could tear Tatiana's family apart, and at its heart lies a secret that could mean death to anyone who hears it. Confronted on the one hand by Hitler's vast war machine, and on the other by a Soviet system determined to crush the human spirit, Tatiana and Alexander are pitted against the very tide of history, at a turning point in the century that made the modern world.
Hallowed by Cynthia Hand
Clara Gardner knew that as a part angel she would one day have to fulfill her purpose, rescuing Christian from a forest fire…what she never considered was what might happen if she were to fail.
Now, torn between her increasingly complicated feelings for Christian and her love for her boyfriend Tucker, Clara must deal with the repercussions of what happened the day of the fire as the two boys vie for her heart. And, as she is drawn further into the world of angels and part angels and the growing conflict between White Wings and Black Wings, Clara learns of the terrifying new reality that she must face: someone close to her will die in a matter of months. With her future uncertain after a shocking revelation, the only thing Clara knows for sure is that the fire was just the beginning…
Boundless by Cynthia Hand
The past few years held more surprises than part-angel Clara Gardner ever could have anticipated. Yet through the dizzying high of first love to the agonizing low of losing someone close to her, the one thing she could no longer deny was that she was never meant to have a normal life.
Since discovering the special role she plays among the other angel-bloods, Clara has been determined to protect Tucker Avery from the evil that follows her . . . even if it means breaking both their hearts. Leaving town seemed like the best option, so she's headed back to California—and so is Christian Prescott, the irresistible boy from the vision that started her on this journey in the first place.
As Clara makes her way in a world that is frighteningly new, she discovers that the fallen angel who attacked her is watching her every move. And he's not the only one. . . . With the battle against the Black Wings looming, Clara knows she must finally fulfil her destiny. But it won't come without sacrifices and betrayal.
In the riveting finale of the Unearthly series, Clara must choose her fate once and for all.
Dreamless by Josephine Angelini
Can true love be FORGOTTEN?
As the only Scion who can descend into the Underworld, Helen Hamilton has been given a nearly impossible task. By night she wanders through Hades, trying to stop the endless cycle of revenge that has cursed her family. By day she struggles to overcome the fatigue that is rapidly eroding her sanity. Without Lucas by her side, Helen is not sure she has the strength to go on.
Just as Helen is pushed to her breaking point, a mysterious new Scion comes to her rescue. Funny and brave, Orion shields her from the dangers of the Underworld. But time is running out – a ruthless foe plots against them, and the Furies' cry for blood is growing louder.
As the ancient Greek world collides with the mortal one, Helen's sheltered life on Nantucket descends into chaos. But the hardest task of all will be forgetting Lucas Delos.
Josephine Angelini's compelling saga becomes ever more intricate and spellbinding as an unforgettable love triangle emerges and the eternal cycle of revenge intensifies. Eagerly awaited, this sequel to the internationally bestselling STARCROSSED delivers a gritty, action-packed love story that exceeds all expectations.
Blue Lily, Lily Blue by Maggie Stiefvater
The third installment in the all-new series from the #1 NEW YORK TIMES bestselling author Maggie Stiefvater!
Blue Sargent has found things. For the first time in her life, she has friends she can trust, a group to which she can belong. The Raven Boys have taken her in as one of their own. Their problems have become hers, and her problems have become theirs. The trick with found things, though, is how easily they can be lost.
Walking Disaster by Jamie McGuire
Can you love someone too much?
Travis Maddox learned two things from his mother before she died: Love hard. Fight harder.
In Walking Disaster, the life of Travis is full of fast women, underground gambling, and violence. But just when he thinks he is invincible, Abby Abernathy brings him to his knees.
Every story has two sides. In Beautiful Disaster, Abby had her say. Now it's time to see the story through Travis's eyes.
Touch of Power by Maria V. Synder
The price of peace may well be her life…
Laying hands upon the injured and dying, Avry of Kazan assumes their wounds and diseases into herself. But rather than being honoured for her skills, she is hunted. Healers like Avry are accused of spreading teh plague that has decimated the Territories, leaving the survivors in a state of chaos.
Stressed and tired from hiding, Avry is abducted by a band of rogue who, shockingly, value her gift above the golden bounty offered for her capture. Their leader – an enigmatic captor-protector with powers of his own – is unequivocal in his demands; Avry must heal a plague-stricken prince, the leader of a campaign against her people.
As they traverse the daunting Nine Mountains, beset by mercenaries and magical dangers, Avry must decide who is worth healing and what is worth dying for.
Through the Ever Night by Veronica Rossi
Aria has struggled to build a life for herself outside Reverie. It hasn't been easy adjusting to life in the wilderness but that struggle has been worth it with Perry by her side.
But Perry has other challenges. His people are looking to him for answers. Answers about what happened to his nephew and what's happening to their world. And they don't trust the priviledged Aria, one of the enemy, in their midst.
Soon he'll be forced to chose between the tribe that looks to him for leadership and the girl that looks to him for love.
Bright Young Things by Anna Godberson
The year is 1929. New York is ruled by the Bright Young Things: Flappers and socialites seeking thrills and chasing dreams in the anything-goes era of the Roaring Twenties.
Letty Larkspur and Cordelia Grey escaped their small Midwestern town for New York's glittering metropolis. All Letty wants is to see her name in lights, but she quickly discovers Manhattan is filled with pretty girls who will do anything to be a star….
Cordelia is searching for the father she's never known, a man as infamous for his wild parties as he is for his shadowy schemes. Overnight, she enters a world more thrilling and glamorous than she ever could have imagined — and more dangerous. It's a life anyone would kill for…and someone will.
The only person Cordelia can trust is ­Astrid Donal, a flapper who seems to have it all: money, looks, and the love of Cordelia's brother, Charlie. But Astrid's perfect veneer hides a score of family secrets.
Across the vast lawns of Long Island, in the ­illicit speakeasies of Manhattan, and on the blindingly lit stages of Broadway, the three girls' fortunes will rise and fall — together and apart. From the New York Times bestselling author of THE LUXE comes an epic new series set in the dizzying last summer of the Jazz Age.
It Ends With Us by Colleen Hoover
SOMETIMES THE ONE WHO LOVES YOU IS THE ONE WHO HURTS YOU THE MOST
Lily hasn't always had it easy, but that's never stopped her from working hard for the life she wants. She's come a long way from the small town in Maine where she grew up – she graduated from college, moved to Boston, and started her own business. So when she feels a spark with a gorgeous neurosurgeon named Ryle Kincaid, everything in Lily's life suddenly seems almost too good to be true.
Ryle is assertive, stubborn, and maybe even a little arrogant. He's also sensitive, brilliant, and has a total soft spot for Lily, but Ryle's complete aversion to relationships is disturbing.
As questions about her new relationship overwhelm her, so do thoughts of Atlas Corrigan – her first love and a link to the past she left behind. He was her kindred spirit, her protector. When Atlas suddenly reappears, everything Lily has built with Ryle is threatened.
With this bold and deeply personal novel, Colleen Hoover delivers a heart-wrenching story that breaks exciting new ground for her as a writer. It Ends With Us is an unforgettable tale of love that comes at the ultimate price.
This book contains graphic scenes and very sensitive subject matter.
The Hating Game by Sally Thorne
NEMESIS (n)
1) An opponent or rival whom a person cannot best or overcome
2) A person's undoing
3) Joshua Templeman
Lucy Hutton has always been certain that the nice girl can get the corner office. She prides herself on being loved by everyone at work – except for imposing, impeccably attired Joshua Templeman.
Trapped in a shared office, they've become entrenched in an addictive, never-ending game of one-upmanship. There's the Staring Game, The Mirror Game, The HR Game. Lucy can't let Joshua beat her at anything – especially when a huge promotion is on offer.
If Lucy wins, she'll be Joshua's boss. If she loses, she'll resign. So why is she questioning herself? Maybe she doesn't hate him. And just maybe, he doesn't hate her either. Or maybe this is just another game . . .
Sweet Reckoning by Wendy Higgins
It's time.
Evil is running rampant and sweet Anna Whitt is its target. Nobody knows when or how the Dukes will strike, but Anna and her Nephilim allies will do anything necessary to rid the earth of the demons and their oppressive ways.
The stakes are higher than ever, and Anna is determined that the love she feels will be her strength, not a liability. But trying to protect the ones she loves while running for her life and battling demonic forces proves to be perilous—especially as faces are changing and trust is fleeting. When the Duke of Lust sends Anna's great love, Kaidan Rowe, to work against her, Anna must decide how much she's prepared to risk.
In the most sensual and fast-paced installment yet, Sweet Reckoning brings all the beloved Neph together one last time to fight for their freedom.
Walk the Edge by Katie McGarry
One moment of recklessness will change their worlds  
Smart. Responsible. That's seventeen-year-old Breanna's role in her large family, and heaven forbid she put a toe out of line. Until one night of shockingly un-Breanna-like behavior puts her into a vicious cyber-bully's line of fire—and brings fellow senior Thomas "Razor" Turner into her life.
Razor lives for the Reign of Terror motorcycle club, and good girls like Breanna just don't belong. But when he learns she's being blackmailed over a compromising picture of the two of them—a picture that turns one unexpected and beautiful moment into ugliness—he knows it's time to step outside the rules.
And so they make a pact: he'll help her track down her blackmailer, and in return she'll help him seek answers to the mystery that's haunted him—one that not even his club brothers have been willing to discuss. But the more time they spend together, the more their feelings grow. And suddenly they're both walking the edge of discovering who they really are, what they want, and where they're going from here.
A Long Way Home by Katie McGarry
Seventeen-year-old Violet has always been expected to sit back and let the boys do all the saving.
It's the code her father, a member of the Reign of Terror motorcycle club, raised her to live by. Yet when her dad is killed carrying out Terror business, Violet knows it's up to her to do the saving. To protect herself, and her vulnerable younger brother, she needs to cut all ties with the club—including Chevy, the boy she's known and loved her whole life.
But when a rival club comes after Violet, exposing old secrets and making new threats, she's forced to question what she thought she knew about her father, the Reign of Terror, and what she thinks she wants. Which means re-evaluating everything: love, family, friends . . . and forgiveness.
Caught in the crosshairs between loyalty and freedom, Violet must decide whether old friends can be trusted—and if she's strong enough to be the one person to save them all.
Anna and the French Kiss by Stephanie Perkins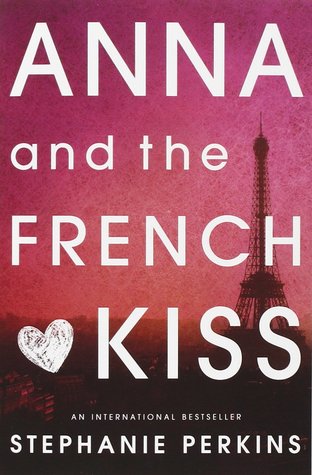 Can Anna find love in the City of Light?
Anna is happy in Atlanta. She has a loyal best friend and a crush on her coworker at the movie theater, who is just starting to return her affection. So she's less than thrilled when her father decides to send her to a boarding school in Paris for her senior year.
But despite not speaking a word of French, Anna meets some cool new people, including the handsome Étienne St. Clair, who quickly becomes her best friend. Unfortunately, he's taken —and Anna might be, too. Will a year of romantic near misses end with the French kiss she's waiting for?
Naomi and Ely's No Kiss List by Rachel Cohn and David Levithan
Naomi ♥ Ely
And she's kinda in love with him.
Ely ♥ Naomi
But he prefers to be in love with boys.
Naomi and Ely have been inseparable since childhood—partially because they've grown up across the hall from each other in the same Manhattan apartment building, and also because they're best friends. Soul mates. Or are they? Just to be safe, they've created a NO KISS LIST—their list of people who are absolutely off-kissing-limits for both of them. The NO KISS LIST protects their friendship and esnures that nothing will rock the foundation of Naomi and Ely: the institution.
Until Ely kisses Naomi's boyfriend. And a fateful piece of gum in the wrong place at the wrong time changes everything.
Soon a rift of universal proportions threatens to destroy their friendship, and it remains to be seen whether Naomi and Ely can find their way toward new soul-mate prospects… and back to one another.
Rachel Cohn and David Levithan have written a love story about love of all kinds, one that reminds us that any great friendship can be as confusing, treacherous, inspiring, and wonderful as any great romance.
Two Boys Kissing by David Levithan
New York Times  bestselling author David Levithan tells the based-on-true-events story of Harry and Craig, two 17-year-olds who are about to take part in a 32-hour marathon of kissing to set a new Guinness World Record—all of which is narrated by a Greek Chorus of the generation of gay men lost to AIDS.
While the two increasingly dehydrated and sleep-deprived boys are locking lips, they become a focal point in the lives of other teen boys dealing with languishing long-term relationships, coming out, navigating gender identity, and falling deeper into the digital rabbit hole of gay hookup sites—all while the kissing former couple tries to figure out their own feelings for each other.
How They Met by David Levithan
Just in time for Valentine's Day comes a confection from David Levithan that is sure to have fans of Boy Meets Boy eager to devour it. Here are 18 stories, all about love, all kinds of love. From the aching for the one you pine for, to standing up and speaking up for the one you love, to pure joy and happiness, these love stories run the gamut of that emotion that at some point has turned every one of us inside out and upside down.
What is love? With this original story collection, David Levithan proves that love is a many splendored thing, a varied, complicated, addictive, wonderful thing.
Nick and Norah's Infinite Playlist by Rachel Cohn and David Levithan
It all starts when Nick asks Norah to be his girlfriend for five minutes. He only needs five minutes to avoid his ex-girlfriend, who's just walked in to his band's show. With a new guy. And then, with one kiss, Nick and Norah are off on an adventure set against the backdrop of New York City—and smack in the middle of all the joy, anxiety, confusion, and excitement of a first date.
This he said/she said romance told by YA stars Rachel Cohn and David Levithan is a sexy, funny roller coaster of a story about one date over one very long night, with two teenagers, both recovering from broken hearts, who are just trying to figure out who they want to be—and where the next great band is playing.
Told in alternating chapters, teeming with music references, humor, angst, and endearing side characters, this is a love story you'll wish were your very own. Working together for the first time, Rachel Cohn and David Levithan have combined forces to create a book that is sure to grab readers of all ages and never let them go.
Dash and Lily's Book of Dares by Rachel Cohn and David Levithan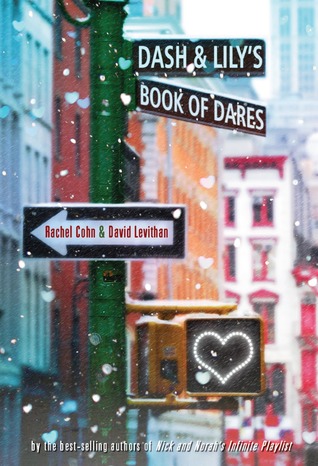 "I've left some clues for you.
If you want them, turn the page.
If you don't, put the book back on the shelf, please."
So begins the latest whirlwind romance from the bestselling authors of Nick & Norah's Infinite Playlist. Lily has left a red notebook full of challenges on a favorite bookstore shelf, waiting for just the right guy to come along and accept its dares. But is Dash that right guy? Or are Dash and Lily only destined to trade dares, dreams, and desires in the notebook they pass back and forth at locations across New York? Could their in-person selves possibly connect as well as their notebook versions? Or will they be a comic mismatch of disastrous proportions?
Rachel Cohn and David Levithan have written a love story that will have readers perusing bookstore shelves, looking and longing for a love (and a red notebook) of their own.