Mailbox Monday is a meme created by Marcia of To Be Continued, you can find the dedicated blog here.
ARCs
If There's No Tomorrow by Jennifer L. Armentrout
Lena Wise is always looking forward to tomorrow, especially at the start of her senior year. She's ready to pack in as much friend time as possible, to finish college applications and to maybe let her childhood best friend, Sebastian, know how she really feels about him. For Lena, the upcoming year is going to be one of opportunities and chances.
Until one choice, one moment, destroys everything.
Now Lena isn't looking forward to tomorrow. Not when friend time may never be the same. Not when college applications feel all but impossible. Not when Sebastian could never forgive her for what happened.
For what she let happen.
With the guilt growing each day, Lena knows that her only hope is to move on. But how can she move on when tomorrow isn't even guaranteed?
Physical Books
Pandemonium by Lauren Oliver
Unflinching, heartbreaking and totally addictive, this novel will push your emotions to the limit.
Lena's been to the very edge. She's questioned love and the life-changing and agonising choices that come with it. She's made her decision. But can she survive the consequences?
Requiem by Lauren Oliver
Battling against a society in which love has been declared a disease, Lena now finds herself at the centre of a fierce revolution. But the Wilds are no longer the haven they once were as the government seeks to stamp out the rebels. And Lena's emotions are in turmoil following the dramatic return of someone she thought was lost forever…
Told from the alternating viewpoints of Lena and her best friend Hana, Requiem brings the Delirium trilogy to an exhilarating end and showcases Lauren Oliver at the height of her writing powers – emotionally powerful and utterly enthralling.
Never Never: Part Two by Colleen Hoover and Tarryn Fisheer
"Never forget that I was your first real kiss. Never forget that you'll be my last.
And never stop loving me between all of them.
Never stop, Charlie.
Never forget."
Silas races against time as more truths unravel, while others twist tighter together. And now, the stakes are higher as Silas' control slips and others begin to point fingers. Charlie is in trouble and he must be the one to bridge the chasm between their past and their present. Because somewhere between I love yous and Never Nevers and Never Agains, a truth they can't imagine, beckons to be found.
"Where are you, Charlie?"
Stolen by Lucy Christopher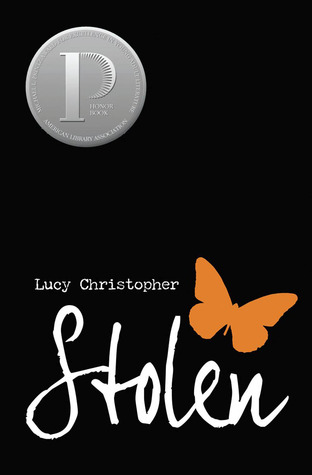 A girl: Gemma, 16, at the airport, on her way to a family vacation.
A guy: Ty, rugged, tan, too old, oddly familiar, eyes blue as ice.
She steps away. For just a second. He pays for her drink. And drugs it. They talk. Their hands touch. And before Gemma knows what's happening, Ty takes her. Steals her away. To sand and heat. To emptiness and isolation. To nowhere. And expects her to love him.
Written as a letter from a victim to her captor, STOLEN is Gemma's desperate story of survival; of how she has to come to terms with her living nightmare–or die trying to fight it.
Flipped by Wendelin Van Draanen
Flipped is a romance told in two voices. The first time Juli Baker saw Bryce Loski, she flipped. The first time Bryce saw Juli, he ran. That's pretty much the pattern for these two neighbors until the eighth grade, when, just as Juli is realizing Bryce isn't as wonderful as she thought, Bryce is starting to see that Juli is pretty amazing. How these two teens manage to see beyond the surface of things and come together makes for a comic and poignant romance.