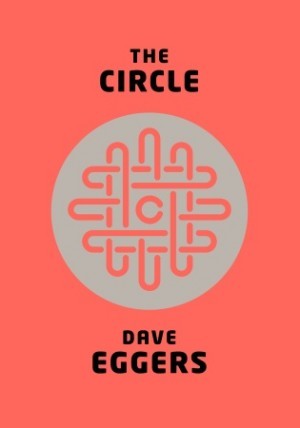 The Circle by Dave Eggers
Published by Knopf on October 8, 2013
Pages: 504
Genres: fiction, science fiction
Goodreads
When Mae Holland is hired to work for the Circle, the world's most powerful internet company, she feels she's been given the opportunity of a lifetime. The Circle, run out of a sprawling California campus, links users' personal emails, social media, banking, and purchasing with their universal operating system, resulting in one online identity and a new age of civility and transparency. As Mae tours the open-plan office spaces, the towering glass dining facilities, the cozy dorms for those who spend nights at work, she is thrilled with the company's modernity and activity. There are parties that last through the night, there are famous musicians playing on the lawn, there are athletic activities and clubs and brunches, and even an aquarium of rare fish retrieved from the Marianas Trench by the CEO. Mae can't believe her luck, her great fortune to work for the most influential company in the world—even as life beyond the campus grows distant, even as a strange encounter with a colleague leaves her shaken, even as her role at the Circle becomes increasingly public. What begins as the captivating story of one woman's ambition and idealism soon becomes a heart-racing novel of suspense, raising questions about memory, history, privacy, democracy, and the limits of human knowledge.
REVIEW
I just finished reading the Circle, and oh my goodness I have such conflicted feelings about this book. It had such an incredible concept but sadly it just failed to execute. Personally, I found this book to be a massive build-up to something that did not exist, the entire time I was anticipating it to end with a bang, but I was thoroughly let down…
So I have to give it to Eggers, for his undeniably supreme concept, social media and technology being used to control society and ultimately the world. We need a book that explores the consequences of widespread social media, and I thought The Circle would be that book, but it wasn't. This novel tackled some pressing issues but presented them in a way that wasn't impactful or impressionable. Instead, I found The Circle to be more about the high-tech advancements that we as a society could eventually be moving toward, and some consequences of that, but I was hoping for a more dramatic take, something more along the lines of actual world domination. I wanted to watch the world fall apart at the hands of this social media empire, to watch it crumble and for society to revolt against this undefeatable supremacy.
Despite what you may think, I actually did enjoy the majority of this book, I was planning on rating it 3/5 stars until the ending that is. I found it intriguing learning about these technological advancements that could possibly become a reality someday, reducing crime rates, kidnapping, sexual assault and all other aspects of injustice. Although I found the writing to be overly lengthy and descriptive at times, there was always something that just drew me in, and new components were being introduced left right and centre. Following Mae climb the ranks of The Circle brought with it new opportunities and greater power, and I couldn't help but want to know where Mae was heading. But you see, that ended up being this book's downfall, the entire time I was anticipating something huge to explode out of nowhere. I could sense this epic build-up just waiting to hit me in the face and for panic to ensue. But it never came… Instead, this book ended abruptly in the span of five pages, and I kept thinking no, this can't be the end. But alas, it was. And so the entirety of the story fell to nothing in the short span of those five pages.
So overall, The Circle was a book that had the potential to be revolutionary, but it lacked that punch, rendering it ineffective. The story was adequate until I was let down by the conclusion, I don't think I'll be watching this one in cinemas.
★★