Mailbox Monday is a meme created by Marcia of To Be Continued, you can find the dedicated blog here.
Physical Books
The Secret History by Donna Tart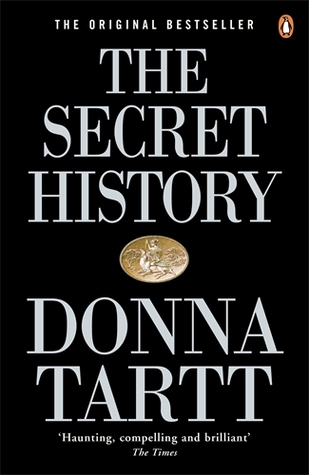 Truly deserving of the accolade Modern Classic, Donna Tartt's cult bestseller The Secret History is a remarkable achievement – both compelling and elegant, dramatic and playful.
Under the influence of their charismatic classics professor, a group of clever, eccentric misfits at an elite New England college discover a way of thinking and living that is a world away from the humdrum existence of their contemporaries. But when they go beyond the boundaries of normal morality their lives are changed profoundly and for ever.
Rebecca by Daphne Du Maurier
Last night I dreamt I went to Manderley again…
Working as a lady's companion, the heroine of Rebecca learns her place. Her future looks bleak until, on a trip to the South of France, she meets Max de Winter, a handsome widower whose sudden proposal of marriage takes her by surprise. She accepts, but whisked from glamorous Monte Carlo to the ominous and brooding Manderley, the new Mrs de Winter finds Max a changed man. And the memory of his dead wife Rebecca is forever kept alive by the forbidding housekeeper, Mrs Danvers…
Not since Jane Eyre has a heroine faced such difficulty with the Other Woman. An international bestseller that has never gone out of print, Rebecca is the haunting story of a young girl consumed by love and the struggle to find her identity.
The Good Girl by Mary Kubica
"I've been following her for the past few days. I know where she buys her groceries, where she has her dry cleaning done, where she works. I don't know the colour of her eyes or what they look like when she's scared. But I will."
Born to a prominent Chicago judge and his stifled socialite wife, Mia Dennett moves against the grain as a young inner-city art teacher. One night, Mia enters a bar to meet her on-again, off-again boyfriend. But when he doesn't show, she unwisely leaves with an enigmatic stranger. With his smooth moves and modest wit, at first Colin Thatcher seems like a safe one-night stand. But following Colin home will turn out to be the worst mistake of Mia's life.
Colin's job was to abduct Mia as part of a wild extortion plot and deliver her to his employers. But the plan takes an unexpected turn when Colin suddenly decides to hide Mia in a secluded cabin in rural Minnesota, evading the police and his deadly superiors. Mia's mother, Eve, and detective Gabe Hoffman will stop at nothing to find them, but no one could have predicted the emotional entanglements that eventually cause this family's world to shatter.
An addictively suspenseful and tautly written thriller, The Good Girl is a propulsive debut that reveals how even in the perfect family, nothing is as it seems…
Three Wishes by Liane Moriarty
Three sisters, one birthday, one little problem …
It happens sometimes that you accidentally star in a little public performance, your very own comedy, tragedy or melodrama.
The three Kettle sisters have been accidentally starring in public performances all their lives, affecting their audiences in more ways than they'll ever know. This time, however, they give a particularly spectacular show when a raucous, champagne-soaked birthday dinner ends in a violent argument and an emergency dash to the hospital.
So who started it this time? Was it Cat: full of angry, hurt passion dating back to the 'Night of the Spaghetti'? Was it Lynn: serenely successful, at least on the outside? Or was it Gemma: quirky, dreamy and unable to keep a secret, except for the most important one of all?
Whoever the culprit, their lives will have all changed dramatically before the next inevitable clash of shared genes and shared childhoods.
eBooks
Autonomous by Annalee Newitz
Autonomous features a rakish female pharmaceutical pirate named Jack who traverses the world in her own submarine. A notorious anti-patent scientist who has styled herself as a Robin Hood heroine fighting to bring cheap drugs to the poor, Jack's latest drug is leaving a trail of lethal overdoses across what used to be North America—a drug that compels people to become addicted to their work.
On Jack's trail are an unlikely pair: an emotionally shut-down military agent and his partner, Paladin, a young military robot, who fall in love against all expectations. Autonomous alternates between the activities of Jack and her co-conspirators, and Joe and Paladin, as they all race to stop a bizarre drug epidemic that is tearing apart lives, causing trains to crash, and flooding New York City.
The Heart's Invisible Furies by John Boyne
Cyril Avery is not a real Avery or at least that's what his adoptive parents tell him. And he never will be. But if he isn't a real Avery, then who is he?
Born out of wedlock to a teenage girl cast out from her rural Irish community and adopted by a well-to-do if eccentric Dublin couple via the intervention of a hunchbacked Redemptorist nun, Cyril is adrift in the world, anchored only tenuously by his heartfelt friendship with the infinitely more glamourous and dangerous Julian Woodbead.
At the mercy of fortune and coincidence, he will spend a lifetime coming to know himself and where he came from – and over his three score years and ten, will struggle to discover an identity, a home, a country and much more.
In this, Boyne's most transcendent work to date, we are shown the story of Ireland from the 1940s to today through the eyes of one ordinary man. The Heart's Invisible Furies is a novel to make you laugh and cry while reminding us all of the redemptive power of the human spirit.
Moxie by jennifer Mathieu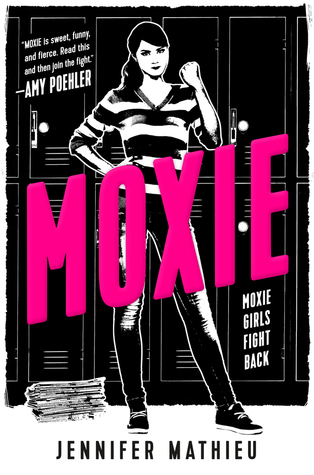 Moxie girls fight back!
Vivian Carter is fed up. Fed up with her small-town Texas high school that thinks the football team can do no wrong. Fed up with sexist dress codes and hallway harassment. But most of all, Viv Carter is fed up with always following the rules.
Viv's mom was a punk rock Riot Grrrl in the '90s, so now Viv takes a page from her mother's past and creates a feminist zine that she distributes anonymously to her classmates. She's just blowing off steam, but other girls respond. Pretty soon Viv is forging friendships with other young women across the divides of cliques and popularity rankings, and she realizes that what she has started is nothing short of a girl revolution.
Little Fires Everywhere by Celeste Ng
In Shaker Heights, a placid, progressive suburb of Cleveland, everything is planned – from the layout of the winding roads, to the colors of the houses, to the successful lives its residents will go on to lead. And no one embodies this spirit more than Elena Richardson, whose guiding principle is playing by the rules.
Enter Mia Warren – an enigmatic artist and single mother – who arrives in this idyllic bubble with her teenaged daughter Pearl, and rents a house from the Richardsons. Soon Mia and Pearl become more than tenants: all four Richardson children are drawn to the mother-daughter pair. But Mia carries with her a mysterious past and a disregard for the status quo that threatens to upend this carefully ordered community.
When old family friends of the Richardsons attempt to adopt a Chinese-American baby, a custody battle erupts that dramatically divides the town–and puts Mia and Elena on opposing sides. Suspicious of Mia and her motives, Elena is determined to uncover the secrets in Mia's past. But her obsession will come at unexpected and devastating costs.
Behind Closed Doors by B. A Paris
The perfect marriage? Or the perfect lie?
Everyone knows a couple like Jack and Grace. He has looks and wealth, she has charm and elegance. You might not want to like them, but you do.
You'd like to get to know Grace better.
But it's difficult, because you realise Jack and Grace are never apart.
Some might call this true love. Others might ask why Grace never answers the phone. Or how she can never meet for coffee, even though she doesn't work. How she can cook such elaborate meals but remain so slim. And why there are bars on one of the bedroom windows.
Sometimes, the perfect marriage is the perfect lie.
Empire of Storms by Sarah J. Maas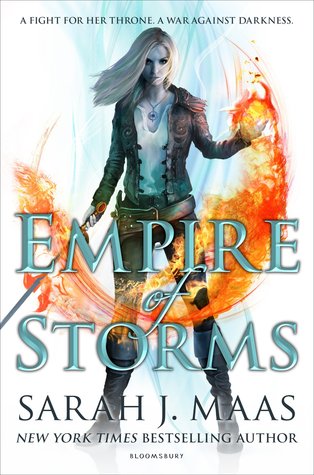 The long path to the throne has only just begun for Aelin Galathynius. Loyalties have been broken and bought, friends have been lost and gained, and those who possess magic find themselves at odds with those don't.
As the kingdoms of Erilea fracture around her, enemies must become allies if Aelin is to keep those she loves from falling to the dark forces poised to claim her world. With war looming on all horizons, the only chance for salvation lies in a desperate quest that may mark the end of everything Aelin holds dear.
Aelin's journey from assassin to queen has entranced millions across the globe, and this fifth installment will leave fans breathless. Will Aelin succeed in keeping her world from splintering, or will it all come crashing down?
Tower of Dawn by Sarah J. Maas
In the next installment of the New York Times bestselling Throne of Glass series, follow Chaol on his sweeping journey to a distant empire.
Chaol Westfall has always defined himself by his unwavering loyalty, his strength, and his position as the Captain of the Guard. But all of that has changed since the glass castle shattered, since his men were slaughtered, since the King of Adarlan spared him from a killing blow, but left his body broken.
His only shot at recovery lies with the legendary healers of the Torre Cesme in Antica—the stronghold of the southern continent's mighty empire. And with war looming over Dorian and Aelin back home, their survival might lie with Chaol and Nesryn convincing its rulers to ally with them.
But what they discover in Antica will change them both—and be more vital to saving Erilea than they could have imagined.
Paper Princess by Erin Watt
From strip clubs and truck stops to southern coast mansions and prep schools, one girl tries to stay true to herself.
These Royals will ruin you…
Ella Harper is a survivor—a pragmatic optimist. She's spent her whole life moving from town to town with her flighty mother, struggling to make ends meet and believing that someday she'll climb out of the gutter. After her mother's death, Ella is truly alone.
Until Callum Royal appears, plucking Ella out of poverty and tossing her into his posh mansion among his five sons who all hate her. Each Royal boy is more magnetic than the last, but none as captivating as Reed Royal, the boy who is determined to send her back to the slums she came from.
Reed doesn't want her. He says she doesn't belong with the Royals.
He might be right.
Wealth. Excess. Deception. It's like nothing Ella has ever experienced, and if she's going to survive her time in the Royal palace, she'll need to learn to issue her own Royal decrees.
Broken Prince Erin Watt
From wharf fights and school brawls to crumbling lives inside glittery mansions, one guy tries to save himself. 
THESE ROYALS WILL RUIN YOU…
Reed Royal has it all—looks, status, money. The girls at his elite prep school line up to date him, the guys want to be him, but Reed never gave a damn about anyone but his family until Ella Harper walked into his life.
What started off as burning resentment and the need to make his father's new ward suffer turned into something else entirely—keep Ella close. Keep Ella safe. But when one foolish mistake drives her out of Reed's arms and brings chaos to the Royal household, Reed's entire world begins to fall apart around him.
Ella doesn't want him anymore. She says they'll only destroy each other.
SHE MIGHT BE RIGHT.
Secrets. Betrayal. Enemies. It's like nothing Reed has ever dealt with before, and if he's going to win back his princess, he'll need to prove himself Royally worthy. 
Twisted Palace by Erin Watt
These Royals will ruin you…
From mortal enemies to unexpected allies, two teenagers try to protect everything that matters most.
Ella Harper has met every challenge that life has thrown her way. She's tough, resilient, and willing to do whatever it takes to defend the people she loves, but the challenge of a long-lost father and a boyfriend whose life is on the line might be too much for even Ella to overcome.
Reed Royal has a quick temper and even faster fists. But his tendency to meet every obstacle with violence has finally caught up with him. If he wants to save himself and the girl he loves, he'll need to rise above his tortured past and tarnished reputation.
No one believes Ella can survive the Royals. Everyone is sure Reed will destroy them all.
They may be right.
With everything and everyone conspiring to keep them apart, Ella and Reed must find a way to beat the law, save their families, and unravel all the secrets in their Twisted Palace.
Fallen Heir by Erin Watt
These Royals will ruin you.
Easton Royal has it all: looks, money, intelligence. His goal in life is to have as much fun as possible. He never thinks about the consequences because he doesn't have to.
Until Hartley Wright appears, shaking up his easy life. She's the one girl who's said no, despite being attracted to him. Easton can't figure her out and that makes her all the more irresistible.
Hartley doesn't want him. She says he needs to grow up.
She might be right.
Rivals. Rules. Regrets. For the first time in Easton's life, wearing a Royal crown isn't enough. He's about to learn that the higher you start, the harder you fall.
Dress Codes for Small Towns by Courtney Stevens
As the tomboy daughter of the town's preacher, Billie McCaffrey has always struggled with fitting the mold of what everyone says she should be. She'd rather wear sweats, build furniture, and get into trouble with her solid group of friends: Woods, Mash, Davey, Fifty, and Janie Lee.
But when Janie Lee confesses to Billie that she's in love with Woods, Billie's filled with a nagging sadness as she realizes that she is also in love with Woods…and maybe with Janie Lee, too.
Always considered "one of the guys," Billie doesn't want anyone slapping a label on her sexuality before she can understand it herself. So she keeps her conflicting feelings to herself, for fear of ruining the group dynamic. Except it's not just about keeping the peace, it's about understanding love on her terms—this thing that has always been defined as a boy and a girl falling in love and living happily ever after. For Billie—a box-defying dynamo—it's not that simple.
Readers will be drawn to Billie as she comes to terms with the gray areas of love, gender, and friendship, in this John Hughes-esque exploration of sexual fluidity.
The Rattled Bones by S. M Parker
Unearthing years of buried secrets, Rilla Brae is haunted by ghostly visions tied to the tainted history of a mysterious island in this haunting novel from the author of The Girl Who Fell.
Maine-bred, independent Rilla Brae is no stranger to the deep. She knows the rhythms of hard work and harder seas. But when she experiences the sudden death of her father, the veil between the living and the dead blurs and she begins to be haunted by a girl on a nearby, uninhabited island. The girl floats a song over the waves, and it is as beautiful as it is terrifying. Familiar and distant.
Then Rilla meets Sam, a University of Southern Maine archeology student tasked with excavating the very island where the ghostly girl has appeared. Sam sifts the earth looking for the cultural remains of an island people who were forcibly evicted by the state nearly a hundred years ago. Sam tells Rilla the island has a history no locals talk about—if they know about it at all—due to the shame the events brought to the working waterfront community. All Rilla knows for sure is that the island has always been there—an eerie presence anchored in the stormy sea. Now Sam's work and the ghostly girl's song lure Rilla to the island's shores.
As Rilla helps Sam to unearth the island's many secrets, Rilla's visions grow—until the two discover a tragedy kept silent for years. And it's a tragedy that has everything to do with Rilla's past.
All Rights Reserved by Gregory Scott Katsoulis
In a world where every word and gesture is copyrighted, patented or trademarked, one girl elects to remain silent rather than pay to speak, and her defiant and unexpected silence threatens to unravel the very fabric of society.
Speth Jime is anxious to deliver her Last Day speech and celebrate her transition into adulthood. The moment she turns fifteen, Speth must pay for every word she speaks ("Sorry" is a flat ten dollars and a legal admission of guilt), for every nod ($0.99/sec), for every scream ($0.99/sec) and even every gesture of affection. She's been raised to know the consequences of falling into debt, and can't begin to imagine the pain of having her eyes shocked for speaking words that she's unable to afford.
But when Speth's friend Beecher commits suicide rather than work off his family's crippling debt, she can't express her shock and dismay without breaking her Last Day contract and sending her family into Collection. Backed into a corner, Speth finds a loophole: rather than read her speech – rather than say anything at all – she closes her mouth and vows never to speak again. Speth's unexpected defiance of tradition sparks a media frenzy, inspiring others to follow in her footsteps, and threatens to destroy her, her family and the entire city around them.
The Snowman by Jo Nesbø
The next thrilling installment in the Harry Hole series.
The night the first snow falls a young boy wakes to find his mother gone. He walks through the silent house, but finds only wet footprints on the stairs. In the garden looms a solitary figure: a snowman bathed in cold moonlight, its black eyes glaring up at the bedroom windows. Round its neck is his mother's pink scarf. Inspector Harry Hole is convinced there is a link between the disappearance and a menacing letter he received some months earlier. As Harry and his team delve into unsolved case files, they discover that an alarming number of wives and mothers have gone missing over the years. When a second woman disappears Harry's suspicions are confirmed: he is a pawn in a deadly game. For the first time in his career Harry finds himself confronted with a serial killer operating on his turf, a killer who will drive him to the brink of insanity. A brilliant thriller with a pace that never lets up, The Snowmanconfirms Jo Nesbø's position as an international star of crime fiction.
The Women in the Castle Jessica Shattuck
The instant New York Times bestselling novel…
Set at the end of World War II, in a crumbling Bavarian castle that once played host to all of German high society, a powerful and propulsive story of three widows whose lives and fates become intertwined—an affecting, shocking, and ultimately redemptive novel from the author of the New York Times Notable Book The Hazards of Good Breeding
Amid the ashes of Nazi Germany's defeat, Marianne von Lingenfels returns to the once grand castle of her husband's ancestors, an imposing stone fortress now fallen into ruin following years of war. The widow of a resistor murdered in the failed July, 20, 1944, plot to assassinate Adolf Hitler, Marianne plans to uphold the promise she made to her husband's brave conspirators: to find and protect their wives, her fellow resistance widows.
First, Marianne rescues six-year-old Martin, the son of her dearest childhood friend, from a Nazi reeducation home. Together, they make their way across the smoldering wreckage of their homeland to Berlin, where Martin's mother, the beautiful and naïve Benita, has fallen into the hands of occupying Red Army soldiers. Then she locates Ania, another resistor's wife, and her two boys, now refugees languishing in one of the many camps that house the millions displaced by the war.
As Marianne assembles this makeshift family from the ruins of her husband's resistance movement, she is certain their shared pain and circumstances will hold them together. But she quickly discovers that the black-and-white, highly principled world of her privileged past has become infinitely more complicated, filled with secrets and dark passions that threaten to tear them apart. Eventually, all three women must come to terms with the choices that have defined their lives before, during, and after the war—each with their own unique share of challenges.
Written with the devastating emotional power of The Nightingale, Sarah's Key, and The Light Between Oceans, Jessica Shattuck's evocative and utterly enthralling novel offers a fresh perspective on one of the most tumultuous periods in history. Combining piercing social insight and vivid historical atmosphere, The Women in the Castle is a dramatic yet nuanced portrait of war and its repercussions that explores what it means to survive, love, and, ultimately, to forgive in the wake of unimaginable hardship.
A Poison Dark and Drowning by Jessica Cluess
The magicians want her to lead. The sorcerers want her to lie. The demons want her blood. Henrietta wants to save the one she loves. But will his dark magic be her undoing?
Henrietta doesn't need a prophecy to know that she's in danger. She came to London to be named the chosen one, the first female sorcerer in centuries, the one who would defeat the bloodthirsty Ancients. Instead, she discovered a city ruled by secrets. And the biggest secret of all: Henrietta is not the chosen one.
Still, she must play the role in order to keep herself and Rook, her best friend and childhood love, safe. But can she truly save him? The poison in Rook's system is transforming him into something monstrous as he begins to master dark powers of his own.
So when Henrietta finds a clue to the Ancients' past that could turn the tide of the war, she persuades Blackwood, the mysterious Earl of Sorrow-Fell, to travel up the coast to seek out strange new weapons. And Magnus, the brave, reckless flirt who wants to win back her favor, is assigned to their mission. Together, they will face monsters, meet powerful new allies, and uncover the most devastating weapon of all: the truth.
Little & lion by Brandy Colbert
When Suzette comes home to Los Angeles from her boarding school in New England, she isn't sure if she'll ever want to go back. L.A. is where her friends and family are (along with her crush, Emil). And her stepbrother, Lionel, who has been diagnosed with bipolar disorder, needs her emotional support.
But as she settles into her old life, Suzette finds herself falling for someone new…the same girl her brother is in love with. When Lionel's disorder spirals out of control, Suzette is forced to confront her past mistakes and find a way to help her brother before he hurts himself–or worse.