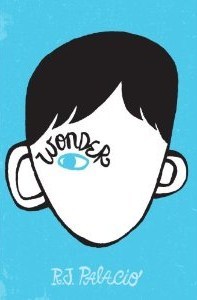 Wonder by R. J Palacio
Published by Knopf on February 14, 2012
Genres: middle grade, contemporary, realistic fiction
Pages: 316
Goodreads
I won't describe what I look like. Whatever you're thinking, it's probably worse.
August (Auggie) Pullman was born with a facial deformity that prevented him from going to a mainstream school—until now. He's about to start 5th grade at Beecher Prep, and if you've ever been the new kid then you know how hard that can be. The thing is Auggie's just an ordinary kid, with an extraordinary face. But can he convince his new classmates that he's just like them, despite appearances?
R. J. Palacio has written a spare, warm, uplifting story that will have readers laughing one minute and wiping away tears the next. With wonderfully realistic family interactions (flawed, but loving), lively school scenes, and short chapters, Wonder is accessible to readers of all levels.
REVIEW
I've read Wonder twice now and the second time around I appreciated the story even more. The takeaway from the novel is timeless––choose kind, this is a book many people will applaud, children and adults alike.
The writing style and way the story is laid out makes Wonder a highly accessible novel, R. J Palacio tells the story in a simple yet impactful manner that people will appreciate.
One of the reasons Wonder stood out to me was it's real and relatable characters. Auggie's character is one that will stay with you long after finishing the book, and I really admired his growth throughout the novel. I also loved the multiple POV's, as we better understand the other characters. We see why they act in a certain way and how they're not horrible people after all but they each have their own struggles that they're dealing with.
The plot is interesting and we watch Auggie face real life issues that relate to middle graders. We follow Auggie as the new kid and how he eventually finds his place in the school. This wasn't a five-star book for me as I felt that I couldn't fully relate to the middle-grade setting, but I'm sure that if I read this book as a child I would've loved it even more!
Overall, Wonder was a heartwarming story with an important message that I believe everyone should read!