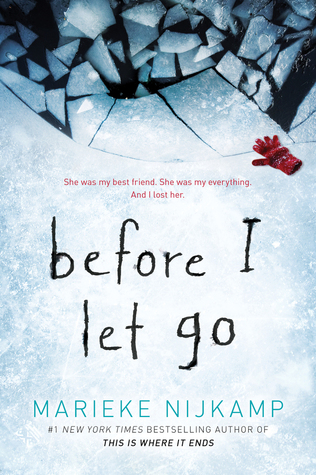 Before I Let Go by Marieke Nijkamp
Published by Sourecebooks Fire on January 2, 2018
Genres: Young adult, mystery, contemporary
Pages: 358
Goodreads
Best friends Corey and Kyra were inseparable in their snow-covered town of Lost Creek, Alaska. When Corey moves away, she makes Kyra promise to stay strong during the long, dark winter, and wait for her return.
Just days before Corey is to return home to visit, Kyra dies. Corey is devastated―and confused. The entire Lost community speaks in hushed tones about the town's lost daughter, saying her death was meant to be. And they push Corey away like she's a stranger.
Corey knows something is wrong. With every hour, her suspicion grows. Lost is keeping secrets―chilling secrets. But piecing together the truth about what happened to her best friend may prove as difficult as lighting the sky in an Alaskan winter…
I was kindly provided an e-arc of this book via NetGalley in exchange for an honest review
REVIEW
I was really excited to read Before I Let Go, I was expecting a thrilling mystery set in the harsh Alaskan winter. However, I felt like I was quite let-down at the lack of excitement and mystery within the story.
The setting definitely had me intrigued, the small town and brutal winter weather is such a potent background for a story to take place. The unrelenting cold created an eerie sensation that permeated the narrative, but it didn't get so far as to be frightening. I loved the idea of a tight-knit community in this small town, but as Corey was considered an outcast we get this severe sense of loneliness and sorrow instead.
I enjoyed Nijkamp's writing, especially at the beginning of the book I really had high hopes. Before I Let Go is told in dual points in time, the present and the past. But I found it to be a bit inconsistent, at times it was beautifully descriptive and at others, it felt drawn out and monotonous. This novel wasn't heavily plot based and I believe that if the writing was stronger it may have redeemed the novel for me.
Before I Let Go follows two central characters–Corey, the protagonist, and Kyra, her dead best friend. Corey and Kyra never left each other's sides, they were there all throughout the good and the bad times, including Kyra's bipolar episodes that would strike at random. I adored how supportive Corey was of Kyra, she never thought anything unkind of her, even though everyone else shunned her due to her mental illness. However, despite all this the characters fell a little bit flat for me, I didn't feel greatly attached to them they needed more substance to their characters. Furthermore, as there was little to no romance present within this book there wasn't enough to keep me truly invested in the story. There was a fair bit of diversity present within this novel, Kyra had bipolar disorder and was pansexual, Corey was asexual and this is #ownvoices, Roshan and Sam are both gay and both Roshan and his dad are Indian.
The plot is where I felt like the story really lacked, as the book went on it became exceedingly drawn-out, repetitive and meandering. We follow Corey as she wanders through town, talking with old friends and trying to uncover the mystery surrounding Kyra's depth. There wasn't any real excitement, the story fell flat as there was little to no build-up or suspense. The only drama is in the last 30% of the novel where there is a specific scene that feels like it was plucked out of a thriller, but it didn't match the tone of the rest of the book whatsoever, it felt greatly out of place. In the end, I didn't feel as if this book achieved much with its story, I wanted so much more from it!
Overall, I'm sad to say I didn't enjoy Before I Let Go as much as I was hoping to. However, you may like this story if you don't mind slow paced narratives, small towns and drawn out mysteries.